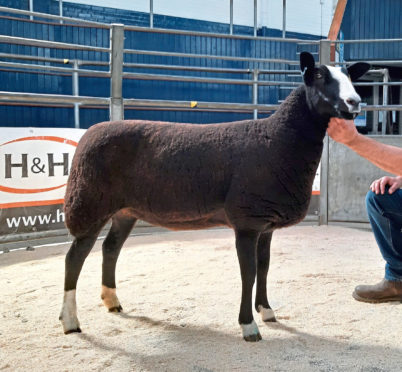 Scottish breeders enjoyed success at the Zwartbles Sheep Association's annual sale in Carlisle.
The sale topped at 1,900gn for a gimmer from Dunblane-based Greystone flock, while the dispersal of north-east breeder Faye Wilkie's Whitestone flock topped at 1,800gn twice.
Leader from the Greystone flock – run by Messrs McLaren and Baird – was Greystone Grace, by Craigies Djangos. She sold to Messrs Lloyd, Trefriw, Llanrwst.
Next best in the females, selling to the Goldies flock in Dumfries for 1,800gn, was a gimmer – Joyfield Golden Girl, by Millburn Sam from Lockerbie breeders Joyce and Neil Millar's Joyfield flock.
Rams topped at 1,000gn twice. First sold to the Goldies was January 2019-born Aquila Globetrotter, by Millburn Sam.
The other, sold to Orkney breeder Heather Hourston for her Didcot flock, was March-born ram lamb Pistyll Hugo, by Redgate Gaston, from the Francis family in Carmarthen.
The main sale averages were: aged rams, two, £304.50; aged ewes, two, £351.75; shearling rams, 14, £423.75; gimmers, 46, £494.87; ram lambs, 25, £370.86; and ewe lambs, 34, £472.50.
Meanwhile, 18 lots went under the hammer as part of the dispersal of Faye Wilkie's Whitestone flock at Whitestone Farm, Westhill.
The first lot at 1,800gn was shearling ram Whitestone Giovanni, by Killymallaght Enigma. He sold to Yorkshire breeder Eleanor Foster.
The other was two-year-old ewe Joyfield Flawless, by Millburn Sam. Originally bought for 2,000gn in Carlisle last year, she sold back to her breeders – Joyce and Neil Millar.
The 18 Whitestone entries averaged £799.17.