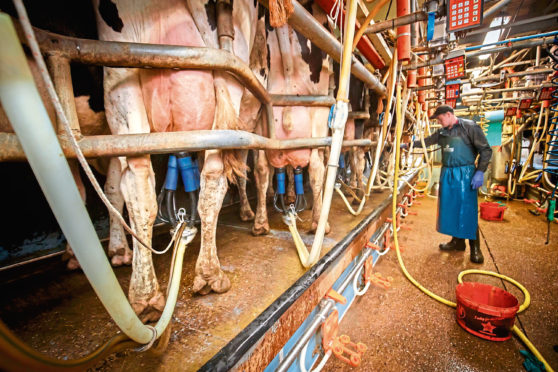 Some of the UK's most technically-advanced dairy farms could be lost next year as a result of labour and skills shortages, according to the milk industry's lobbying organisation RABDF.
The Migration Advisory Committee's decision not to include dairy workers on the shortage occupation list has prompted RABDF to warn that farms relying on foreign workers could be left with a labour shortage once the new points-based immigration system is implemented, as a survey four years ago found half the respondents employed staff from outside the UK.
RABDF managing director Matt Knight said: "The points-based immigration system will give priority to those with the 'highest skills and greatest talents', with dairy workers not falling into these categories.
"There's no doubt this latest failure to recognise dairy workers will leave the UK dairy industry with a labour shortage, with some of the largest dairy producers in the UK relying on skilled foreign labour."
Mr Knight said if the most advanced dairy farms were lost due to their reliance on foreign labour, the repercussions would be felt right across the industry, with an impact not just on milk supply but also on feed companies and veterinary practices.
However, there is a glimmer of hope that home-grown help could be in the pipeline, with Scotland's Rural College (SRUC) reporting that the Covid-19 lockdown has prompted an upturn in interest among mature students in studying agriculture.
SRUC says more than 50 people applied for a £1,000 "Change Your Path" bursary offered to students aged 25 and over. The 20 successful candidates are now starting an HNC, HND, degree or postgraduate degree course at campuses including Aberdeen, Ayr, Barony in Dumfries and Galloway, Edinburgh, Elmwood in Fife and Oatridge in West Lothian, as well as the Glasgow Botanic Gardens, which runs horticulture courses in partnership with the college.
SRUC marketing and student recruitment manager Hannah D'Mellow said: "So many of SRUC's students have brilliant stories of career change and I'm delighted that we are able to support some of them with this financial assistance.
"I found that many of the applications this year had a Covid-19 theme – not so much that the crisis had prompted a change of employment sector, but more that those moments of pause in lockdown had allowed many people to re-evaluate what they really wanted to be doing in life."