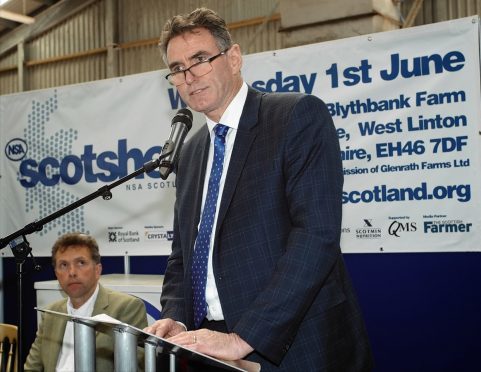 Scottish farmers and crofters must focus more on producing the most amount of kilos of meat per acre of land farmed, according to Royal Bank of Scotland chief executive Ross McEwan.
Addressing farmers at yesterday's Scotsheep event at Blythbank Farm in Peebleshire, the banking chief said agriculture in Scotland and elsewhere across the world needed to become more productive.
Mr McEwan, who owns a farm in his native New Zealand, said: "I think globally farmers need to be much more productive and get more out of every acre that they have and every head that they have of sheep or cattle.
"Land prices are very expensive, not just here but globally now, and even though prices of sheep, cattle and dairy have come off a bit in the last two to three years, we have not seen the land prices drop. So you do have to try and make as much as you can out of every acre."
The bank's head of agriculture, Jimmy McLean, added: "We also have to make sure that we are producing what the market requires."
RBS, which was the headline sponsor of yesterday's event, also revealed an increase in lending to Scottish agriculture in the first three months of this year.
Mr McEwan said lending by the bank to Scots farmers and crofters had been 7% higher in January, February and March, 2016, compared to the same period last year.
Mr McLean said the increased lending had been largely to help ease cash-flow problems caused by late farm payments, however some of it had been issued to fund investment primarily in arable and potato farming enterprises.
The bank also yesterday revealed the number of farmers who had taken out bridging loans to tide them over until their subsidy payments arrived.
Mr McEwan said: "Some 800 customers took up the offer with £19million injected into farming businesses."