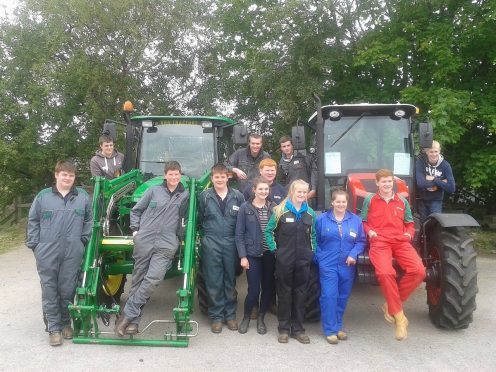 Farmer members of the Ringlink Scotland co-operative are currently playing host to the latest batch of 12 agricultural trainees from Scotland's Rural College, SRUC.
The young interns have just completed their initial three-week course at SRUC's Craibstone campus and have visited a wide range of businesses including Angus Cereals, Boort Malt, Mackies, East Coast Viners and McIntosh Donald to discover the range of opportunities that exist in the sector.
They are now on farms, getting a hands-on introduction to practical agricultural work.
Ringlink Services Ltd training manager, Peter Wood, said the co-op was pleased with the way the internship had developed over the last four years.
"This year the scheme has attracted interest from Perth in the south to the Black Isle in the north.
"It has been an absolute pleasure to work with a group of enthusiastic, courteous and good-humoured students and we are fortunate that these young people have chosen to pursue a career within the rural sector," he said.
Ringlink was established in 1988 to help Angus farmers share expensive machinery and has grown to become the UK's largest machinery ring, with 2,700 members across north-east Scotland.
Farming is at the core of the business but it has diversified into haulage, construction and forestry.
SRUC course co-ordinator Phillip Wrigglesworth said the students learned basic farm skills like tractor driving and forklift operation as well as completing certified courses on health and safety, first aid and manual handling.
"A new addition this year has been an introduction to tractor driving on the road which prepares the students for their imminent tractor driving tests," he said.
The interns and their workplaces are: Martyn Leslie, 16, from Laurencekirk, working for Ian Anderson of Sootywells; Liam Tueiom, 16, from Huntly, working for Roger Polson, Knock Farm, Huntly; Harry Sleigh, 16, from Turriff, working at Auchmacoy Estate Farm, Ellon; Russell Leslie, 16, from Laurencekirk, working for James Stephen at Edzell; Ben Franklin, 17, from Huntly, working for J & L Greenlaw, Sheep Park Farms, Aberchirder; Lindsay Nelson, 17, from Brechin, working for William Mather, Brechin; Andrew Beattie, 18, from Ellon, working for J D Fowlie, Peterhead; Jordan Stewart, 16, from Buckie, working for Charles B Gray, Banff; Ruth Beaton, 16, from Elgin, working for Highland Eggs, Buckie; Alannah Craig, 17, from Westhill, working for Mike Craigmile, Kinellar; Euan Gray, 18, from Turriff, working for W & AI Strachan, Turriff; and Craig Simpson, 16, from Huntly, working for C & E McCombie, Huntly.