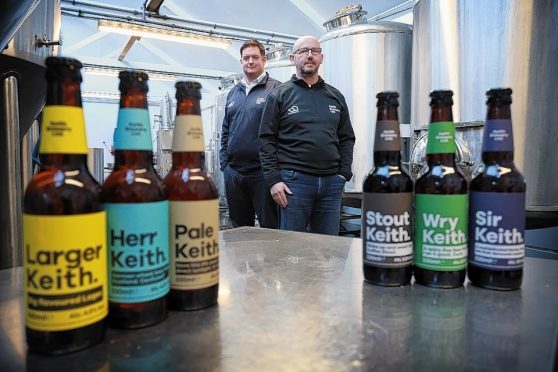 A brewery based in Keith backed by investors from Dundee will be selling super-high strength beer in the UK again after a viral video caused demand to soar.
Keith Brewery will bring Snake Venom, which has an ABV of 67.5%, back to the market in the UK after previously only selling it overseas.
The high strength brew – dubbed a fortified beer due to how it is made – will be sold online only in the UK. It compliments a new range of beers the firm has launched under the Keith Brewery brand for sale across the UK online and in certain retail outlets and bars.
The Moray brewery was taken into under new ownership in June 2015. Prior to this it traded as Brewmeister, which started making the controversial "world's strongest beer".
Dundee-based angel investors group, Discovery Investment Fund, took control Brewmeister and invested £400,000 in the company.
The firm said it is on track for a "record" year of turnover and a move back into profit. Overall, sales of Snake Venom and the export of the brewery's core beers have contributed to over 80% of Keith Brewery's sales coming from fast-growing export markets.
The new owners initially thought they would continue just selling Snake Venom overseas – particularly in China and Hong Kong which enjoys popularity among the region's affluent young drinkers.
But a video featuring young men enjoying the drink – produced independently of the brewery – appeared on a website which was viewed by over 17million people. As a result the company is looking to list the beer on specialist drinks websites in the UK – along with a price tag over £50 per bottle and a letter buyers advising them to consume the product in moderation.
Also backed by the Scottish Investment Bank, the company's chief executive is Scott Carnegie, who is also chairman of Discovery. His Discovery colleagues Graeme Hay and Donald Smith are chairman and operations director of the brewing company, respectively. A new chief operating officer, Andrew Chapman also joined to manage the brewery and drive on-trade sales.
Master brewer Tony Kotronis is also part of the team and the firm plans to make additional hires over the next twelve months.
The brewery is also backed by Highlands and Islands Enterprise (HIE), which has provided grants and support to the business since its original launch, and which is working with the company to continue to develop is export potential further.
Mr Carnegie said: "We have now got a fantastic business that combines craft brewing experts and a management team with international business and retail experience. While we are confident of gaining further market share in the UK, the really exciting part is the massive opportunity we have to grow our export market in the Far East, Europe, Australia and North America."
Angie Smith, business growth account manager with HIE, said: "Moray has a growing reputation for food and drink with many local firms expanding into global markets. Keith Brewery is very much part of this. We have been working with the company, supporting its plans for growth, and it's great to hear of the progress being made. This is good news for the company and its employees, and for the local economy in Moray."