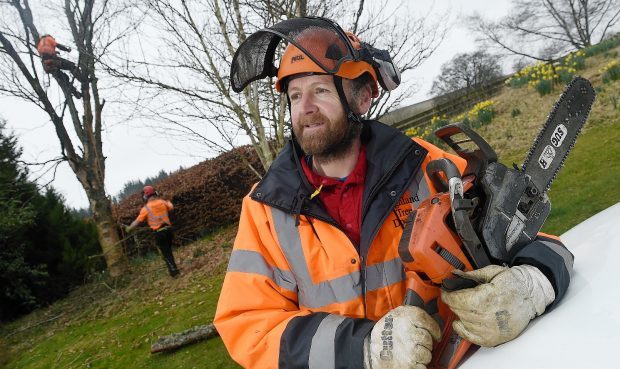 Each week, we ask small businesses key questions.
Here we speak to Donnie Martin, who runs Inverness firm Highland Tree Doctors
How and why did you start in business?
Born and raised in Inverness, I studied biology at Napier University in Edinburgh and then spent 15 years exploring the world as a cycling traveller.
I would earn money working in the woods of western Canada for three months each summer and then take to the road, visiting the Canadian Arctic, Europe, the Middle East (Syrians are the kindest, warmest and most hospitable people in the world), Africa, Australia, New Zealand and the Americas.
The toughest cycling I tried was the Darien Gap from Panama to Colombia. I got rescued from the swampy jungle by a US special forces team that just happened to be there.
In my late 30s, my enjoyment of the work in the Canadian woods led me to complete an MSc in forestry at Aberdeen University. I then set off on another year's cycle trip, but when I got to Thailand I realised that I had had enough. It was time to go home and try a different kind of life.
I started by working for a forestry management company but quickly got bored, and I realised that I am too independent to work for someone else. I had a try at tree surgery, loved it and so decided to go to the best college in the UK – Merrist Wood in Surrey – to learn more.
I started Highland Tree Doctors in Inverness in 2006. It's a great base for a business like mine.
How did you get to where you are today?
My approach to life has always been to give my all and do my best, and I take the same approach to my business. I am also very focused.
Tree surgery is about teamwork and I have recruited a great team. It's also about good training and the best equipment and machinery. It all costs money, and because we are professional through-and-through and never cut corners we obviously can't be the cheapest. However, we can be the best.
Who helped you?
First and foremost my wife, Katy. We met at a yoga class in Inverness just after I got back from my travels and she had returned from a Winston Churchill work-exchange trip to New Zealand. We hit it off immediately and got married on a beach in Kenya.
Nelson Wight got me my first break in the British Columbian woods and set the ball rolling, and Jack Kenyon, a lecturer at Merrist Wood College, has been great – as has my family.
The Federation of Small Businesses (FSB) helped with business information in the early days, with networking events and by providing expert and professional business advice on the phone.
What has been your biggest mistake?
Buying computer technology without the time to master it. Watching it gather dust in a cupboard is depressing.
What is your greatest achievement?
Finding a job that I love and making it a successful business – and marrying my wife.
If you were in power in government, what would you change?
I'm too busy running my business and getting on with life to worry too much about government. I hate bureaucracy and paperwork, and tax rules should be simpler and fairer for small businesses. I've a good accountant to look after that.
What upsets me most is when apparently educated, intelligent politicians stir up racial or ethnic intolerance among people who don't know any better. Free and enlightened education for all is the answer, something worth paying a little more tax for.
What do you still hope to achieve?
To keep running a successful, sustainable business that puts customers first, and tackling ever larger and more demanding tree jobs.
What do you do to relax?
Cycling, outdoor swimming and sleeping on the sofa in front of the fire after a hard day. I love holidaying in warm places, with interesting stuff to do like diving on coral reefs or exploring a jungle.
What are you currently reading, listening to or glued to on the TV?
The Last Wolf by Jim Crumley, though it can take weeks for me to finish a book now as I tend to fall asleep within seconds. I listen to Radio 4 and Classic FM in the workshop.
What do you waste your money on?
Kit and more kit. It used to be bicycles but now its arborist kit. There's always a bigger, better and more expensive machine out there.
How would your friends describe you?
Easy-going and up for adventures, when work doesn't get in the way.
What would your enemies say about you?
I haven't got any but some people do wave their fists at me when I get in their way, driving very slowly and towing my heavy stump-grinder.
What do you drive and dream of driving?
My Navara pick-up truck does a good job at towing machinery and carrying heavy kit, but I dream of driving a Mercedes Unimog, with a woodchipper mounted on the front, a sideways tipping-box on the back and a logging trailer behind. Sadly, it wouldn't go down well with my wife and neighbours when parked in the drive.