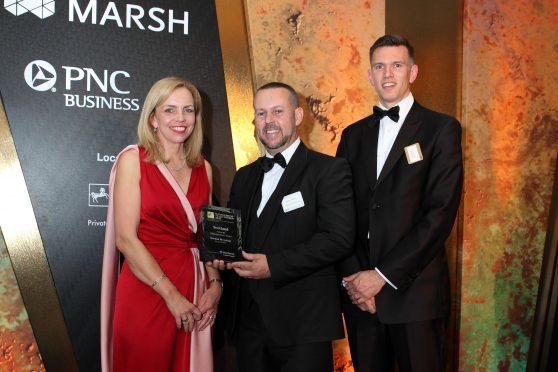 The growth of a north-east organic waste recycling firm has been recognised with a prestigious Scottish business award.
Managers at New Deer-based Keenan Recycling were named growth management team of the year at the annual  British Private Equity and Venture Capital Association (BVCA) management team awards for Scotland.
The company, which collects commercial food waste and turns it into compost, launched its service in Aberdeen and the surrounding area in 2010.  With £2.2million backing from the Business Growth Fund (BGF) it expanded into Edinburgh and Glasgow in 2015, operating form a second base in Linlithgow.
Keenan Recycling now processes more than 60,000 tonnes of waste each year and has more than 7,000 customers.
The BVCA awards celebrate the achievements of UK companies supported by private equity and venture capital funds.  Judges were impressed by the company's continuing growth in the central belt.
Managing director Grant Keenan said:  "Being recognised in the BVCA awards is a fantastic accolade for us. Scotland is home to some truly inspirational businesses, and it is a great honour to be named as one of the top growth companies.
"Keenan Recycling has gone from strength to strength since its establishment and we are committed to growing the company not only throughout Scotland, but also south of the border in the coming months."
Judging panel chairman Andrew Craig, a partner at Maven Capital Partners, said: "Grant Keenan has grown Keenan Recycling from start-up to become market leader in Scotland for organic waste recycling.
"The investment and partnership with BGF has supported further growth and brought in some experienced advisers. The business is now set to expand across additional regions."