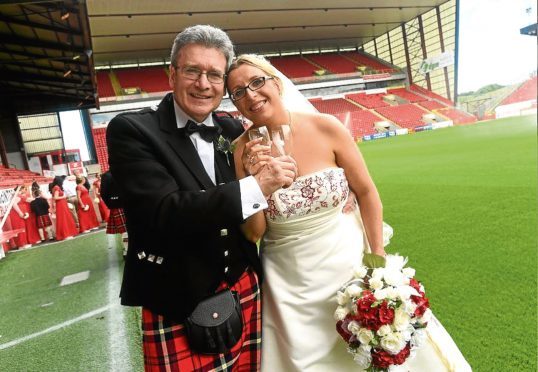 Increasing numbers of north-east brides and grooms are choosing the home of the Dons to celebrate their big day.
And plans are already in motion to ensure couples can still tie the knot if the club moves from Pittodrie to Kingsford.
Aberdeen FC bosses say that while they hope to create a world-class football ground, they also want the stadium to be considered as one of the top events venues in the north-east.
Before 2015, weddings at Pittodrie were almost unheard of. However, following a successful marketing campaign, AFC and catering firm Sodexo secured 10 bookings in the last year and a further seven are due to be held this summer.
In a bid to maintain and build on the success already generated, plans are now in place to improve the club's current facilities if the move to the new stadium goes ahead.
Last night Raymond Edgar, project director at Kingsford Stadium, said: "Our new stadium plans include flexible and functional spaces that will be ideally suited for a range of events including weddings, corporate functions and parties of all sizes.
"These plans will allow us to deliver a significantly upgraded hospitality experience in comparison to what we can currently offer at Pittodrie and will be a huge boost for the region."
Debra Lorimer, sales manager for Sodexo Prestige Venues and Events, added: "Our approach for the stadium over the past couple of years has been to showcase its versatility as a venue outside of match days.
"Pittodrie is a really special location in the city and it's extremely rewarding to see the number of people selecting the stadium as their venue of choice for their big day."
As well as weddings the stadium also offers facilities for other events such as charity auctions, balls and Christmas parties.
Ms Lorimer added: "Opening the turnstiles to movie nights, larger events and private functions, we've worked hard to make the stadium more than just the home of Aberdeen Football Club."
A number of events are scheduled to take place over autumn and winter.
The ground will host a drive-in cinema experience where adults and children will be able to watch six Halloween and Christmas movies from their car.