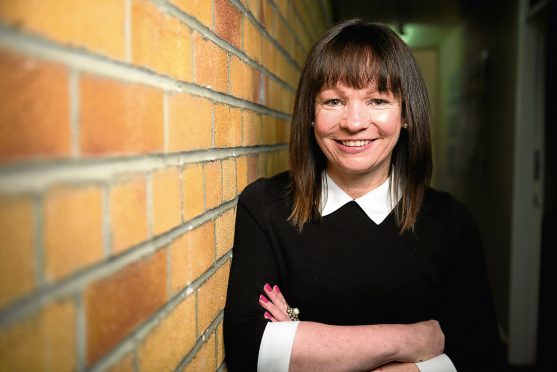 Award-winning life sciences firm NovaBiotics is inching closer to taking its game-changing products to market.
Chief executive Deborah O'Neil said 2018 was shaping up to be an important year for the Aberdeen firm, which is working on a range of treatments for conditions including cystic fibrosis, MRSA and fungal nail infections.
The company is ending this year on a high after it won a gong for the EU's most innovative biotechnology small and medium-sized enterprise (SME) at a prestigious awards ceremony in Brussels.
Its success at EuropaBio's eighth annual SME Awards recognised innovation in tackling antimicrobial resistance (AMR) – one the world's biggest health challenges as people become increasingly resistant to antibiotics.
Ms O'Neil said two of NovaBiotics's late stage research and development projects would move further along the clinical trial process early next year.
Other treatments the company is currently working on are further back in the queue but also making good progress, she added.
One of the firm's products – fungal nail infection treatment Novetaxin – already has an exclusive global licensing deal with a US healthcare firm, Taro Pharmaceuticals.
Another product, Lynovex Oral, is at the centre of a tie-up with a French pharmaceutical company that specialises in the development of so-called "orphan" drugs aimed at treating rare diseases like cystic fibrosis.
NovaBiotics was founded by Ms O'Neil in 2004 and has spent the past 13 years working to rid the world of a range of debilitating conditions.
The potential global demand for its products are huge, with the market for fungal nail infection treatments alone worth an estimated £4.5billion.
More than one in 10 of the world's population are said to be afflicted by nail fungus. The condition is even more prevalent among the elderly and people suffering from circulatory problems.
"We're not getting any sales royalties yet but we're getting very close," Ms O'Neil said, adding the cystic fibrosis and nail fungus treatments now "in the home straight" could reach the approvals stage in 2019 and the early 2020s.
There is still a "busy pipeline" of other products to keep the 15-strong NovaBiotics team focused beyond then, she said, adding: "We are just getting started on some of them."
The recent award highlighted the growing reputation of Aberdeen as a centre for life sciences innovation and excellence.
Ms O'Neil, who is a member of the Scottish Life Sciences Advisory Board and also sits on the newly-formed life science board of economic development body Opportunity North East (One) said. "The sector has just been getting on with it quietly and under the radar.
"Now it's under the spotlight, because of One and the evolution of the local economy. It can only get better."
NovaBiotics' boardroom team includes former EY science and technology entrepreneur of the year Andy Porter, a key figure in the UK biotech sector.
Mr Porter was chief scientific officer and on the founding team of Aberdeen firm Haptogen, playing a key role in its sale to Wyeth Pharmaceuticals in 2007.
Accounts at Companies House show NovaBiotics earned revenue of £974,270 from partners' "milestone payments" and research services during the 12 months to August 31, down from just over £1million a year earlier.
Pre-tax losses for the wholly clinical stage biotechnology business came in at £3.9million in the latest period, against losses of £1.8million previously.
NovaBiotics – based at Craibstone and a spin-out from research carried out at the Rowett Institute – is just one of a string of life sciences firms flourishing in Aberdeen after the oil and gas downturn, highlighting the potential for economic diversification.
According to One, there are now more than 2,500 people employed in the sector locally and contributing £160million to the economy.
An estimated 22% of all Scottish employment in life sciences research and development in biotechnology companies is based in the Aberdeen area.
Life sciences companies in the region have attracted £175million investment over the past five years and the academic base behind them has attracted nearly £250million in research funding.