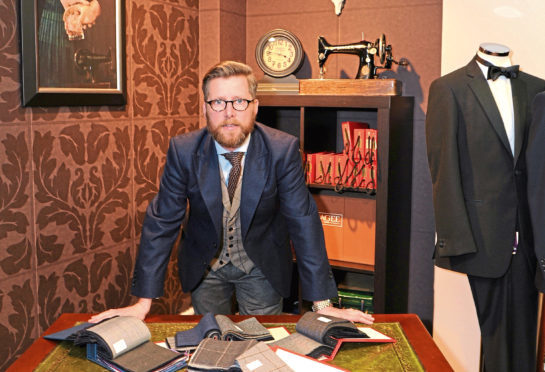 Nearly 900 Chinese guests of drink giant Pernod Ricard are to be kitted out in Highland dress after a £100,000 deal secured with Aberdeenshire retailer Gibbs.
The Inverurie-based menswear business won the contract in advance of a four-day whisky extravaganza at Aviemore and other locations around Scotland, including distilleries in the north-east, in July.
Pernod Ricard, the parent company of whisky firm Chivas Brothers, will soon be welcoming 875 Chinese men and women heading to the event.
Gibbs, which was established 36 years ago and employs 10 people, is working flat out to make sure the guests from the Far East are dressed for the part for their crash course in Scottish culture.
Barry Gibb, director at the firm, said: "We've been working with Pernod Ricard for the last 15 years and they know and trust we will deliver on a large scale.
"This is not just a boost to our business, but the trip creates an economic boost all round for companies throughout Scotland."
Gibbs plans to take on up to four more staff over the summer to cope with the extra demand.
Mr Gibb added: "This isn't a one-off for us. We have a further five groups booked between now and September from Pernod Ricard.
"It includes Italians, Turkish and Americans and they are putting on a wealth of hospitality to ensure that their guests enjoy their time here, which includes the chance to wear our Highland outfits."
Highland dress has become a major part of Gibbs' business over the years.
The firm not only offers a hiring service, but also sells made-to-measure outfits under the brand name Mitchell Scott.