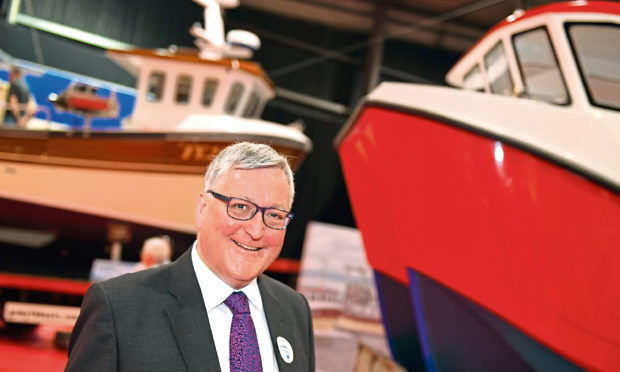 New measures to improve the safety of fishermen at sea will be announced at Skipper Expo International in Aberdeen today.
Fisheries Secretary Fergus Ewing will reveal details when he opens the UK's largest annual fishing industry trade show.
The Scottish Government's recent "national discussion" paper on the future of fisheries management north of the border said safety was a "key priority".
It highlighted the need for a "holistic approach" and dedicated funding to support improvements that were recommended by the Marine Accident Investigation Branch, but which the UK had not fully implemented.
The document added: "We would seek to prioritise the use of future funding to support the necessary adjustments needed to vessels to make them as safe as possible for going to sea."
Mr Ewing said yesterday he would be reporting positive feedback to the discussion paper, which he launched in March, during his speech at the start of the two-day fishing expo at the Aberdeen Exhibition and Conference Centre.
"It has been fairly well received by stakeholders," he said, adding that he would also be paying tribute to the outgoing chief executive of the Scottish Fishermen's Federation (SFF).
SFF figurehead, Bertie Armstrong, announced yesterday that he would step down in the autumn after leading the industry body for more than 14 years.
He will be replaced by Elspeth Macdonald, who is currently deputy chief executive of Food Standards Scotland.
Mr Ewing, who became fisheries secretary in May 2016, said he had not always agreed with Mr Armstrong on some of the big issues facing the industry but their working relationship had been "constructive".
He added: "We are due significant thanks to the energy and good humour he has brought to the task."
The minister said he hoped to have a "similarly constructive" relationship with Mr Armstrong's successor, as it was vital for the government and industry to work together to secure a sustainable future for Scottish fishing.
Not surprisingly, his speech today will include Brexit and Mr Ewing said he recognised there was strong support in Sottish fishing communities for the UK's withdrawal from the European Union.
But a "more nuanced" perspective of Brexit is gaining momentum, he said, highlighting challenges surrounding labour, taxes, tariffs and potential delays to the export of perishable goods.
He added: "My whole approach is to try to get the best pragmatic solutions under any scenario.
"We have to be prepared for the best case scenario and we have to be prepared for the worst.
"There are some very serious challenges that Brexit causes. We need to think ahead if we are to resolve these problems."
One impact is the loss of EU fisheries funding and Mr Ewing said many questions still remained about how the UK Government's proposed Prosperity fund will work.