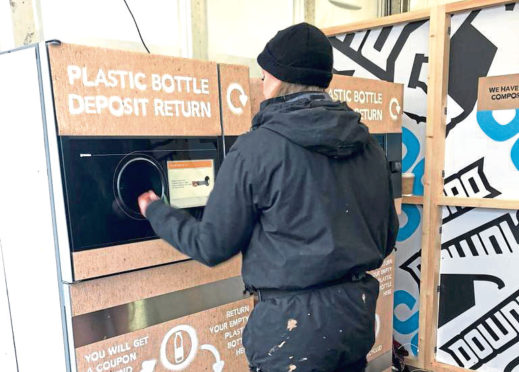 The Co-op and recycling technology company Tomra have teamed up to trial a plastic bottle deposit return scheme at the 16th Belladrum Tartan Heart Festival.
Reverse vending machines (RVMs), where people can return empty drink bottles and get their deposits back in the form of a voucher to spend at on-site stores, will be a novel feature at the event taking place at Belladrum Estate, near Inverness, from August 1-3.
RVMs will be available within "recycling rooms" in the Co-op pop-up store at the festival.
It follows the Scottish Government's recent announcement of plans for a deposit return scheme, aimed at cutting down on plastics.
Music lovers at Belladrum will pay a mandatory 10p deposit when they buy plastic bottles up to two litres at the Co-op store.
They can choose to donate their 10p to Keep Britain Tidy, and any unclaimed deposits will also go to the nominated charity.
The RVMs will accept only plastic bottles, and to boost recycling and cut littering on the festival sites they will also accept bottles not bought at the Co-op.
Truls Haug, managing director of Tomra Collection Solutions UK & Ireland, said: "Ahead of the formal introduction of a deposit return scheme in Scotland, this represents a great opportunity for Belladrum's music fans to experience for themselves the ease and simplicity of reverse vending and deposit return.
"We are delighted to be supporting this great event and to have the chance to boost its sustainability credentials, while hopefully promoting good recycling habits for the future.
"Tomra believes that a well-designed deposit return scheme is the perfect example of a working circular economy.
"The system reduces waste ending up in landfills or nature, and ensures containers can be recycled back into bottles and cans."
Co-op partnership manager Alasdair Fowle said the trial, which will see RVMs installed at seven major UK music festivals this summer, would "really help us to understand how consumers use and react to the machines".
Meanwhile, a Tesla electric car will help highlight climate change and energy-saving advice – as well as transporting musicians – during the Hebridean Celtic Festival on Lewis and Harris from July 17-20.