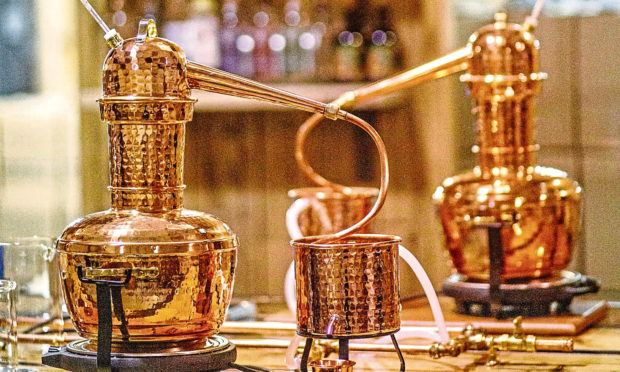 North-east craft distiller Lost Loch Spirits is celebrating another milestone after launching a school for would-be rivals.
The Aboyne-based company's new spirits school is said to be the first of its kind in the region.
Those taking part in its classes have access to copper alembic stills – an ancient method of distilling – to make their own gin, absinthe or botanical spirit.
Peter Dignan, one of the entrepreneurial duo behind Loch Lost, said: "We have over 100 botanicals that can be used and they range from mushrooms to pineapples. All participants get to label and take home a 50cl bottle of their creation."
The spirits school is open every second Saturday for public bookings and can be reserved for private parties or corporate events any other day of the week.
Lost Loch is the idea of Mr Dignan and Richard Pierce, who produced the first batch of what was believed to be Scotland's first home-made absinthe in 2017.
The catalyst for the distillery was Haroosh, a whisky-based liqueur which Mr Dignan – a subsea inspection engineer – had started making in a garden shed the year before. Last year, the pair launched a gin – Eenoo – named after a 19th Century Inuit adventurer who came to the north-east on a whaling ship. Their portfolio now comprises two gins, an absinthe and Haroosh.
Mr Dignani said: "We have sold in the region of 16,000 bottles over the course of the last year.
"We are now working with seven clients to produce 11 products which include gin, vodka and a non-alcohol spirit.
"A few of our clients are local but we are also producing three gin expressions for a company based in Cornwall and another in Manchester.
"The non-alcoholic spirit will be released in the next few months for a London-based company."
He added: "It has always been our plan to open for tours and tastings and we achieved this in early September 2019.
"We see the tourism sector as a growth sector in the north-east and wanted our business to be in a position to take advantage."