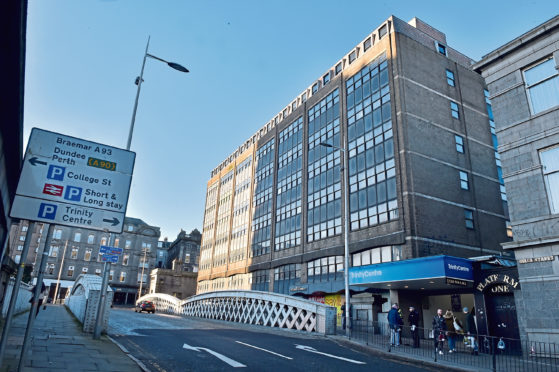 A building that just a few years ago was at the heart of plans for a major regeneration project in Aberdeen is changing hands as part of a £65 million property deal.
Atholl House on Guild Street is one of 19 UK regional office buildings – and one of two in the Granite City – that are being snapped up by Singaporean investment firm Elite Capital Partners.
Elite is acquiring them from London-based CLS Holdings, which on Hogmanay said the £62.1m sale of 17 of the 19 offices had already gone through.
The other two buildings are being sold for £2.9m, with Elite expected to pick up the keys during the first quarter of 2020.
Five of the properties are in Scotland, wth Lord Cullen House on Fraser Place, Aberdeen, also among the two north-east buildings included in the deal.
Lord Cullen House is home to the Health and Safety Executive in the Granite City.
Atholl House comprises 53,625 sq ft of office accommodation which is currently being marketed for let.
It nearly changed hands about three years ago, with prospective buyer and developer Atholl Square Developments (ASD), owned by Keith Murdoch and James Wilkie, planning to demolish it to make way for three towers housing student accommodation and a hotel.
But ASD abandoned its plans, reportedly forfeiting a £1.5m deposit, amid the economic turmoil caused by the oil and gas downturn.
Announcing its UK regional portfolio sale, CLS said major lease "re-gears" had left the properties with "less active asset management potential".
The company added: "The sale of the portfolio is in line with our strategy of actively recycling our capital and focusing the UK portfolio on London and the south-east."
CLS said the 618,223 sq ft of office accommodation changing hands was valued at £66.4m as at June 30 2019, with the sale proceeds representing a "small" loss of £1.4m.
But the firm also said it had received more than £3.2m in rent from the portfolio since June 30.
CLS chief executive Fredrik Widlund added: "This transaction is a significant step in implementing our strategy of focusing our UK portfolio on London and the south-east office markets, a region in which we remain confident of the long-term prospects.
"We continue to see significant opportunities for acquisitions across our core markets and this transaction will allow us to recycle capital to capitalise on those opportunities."