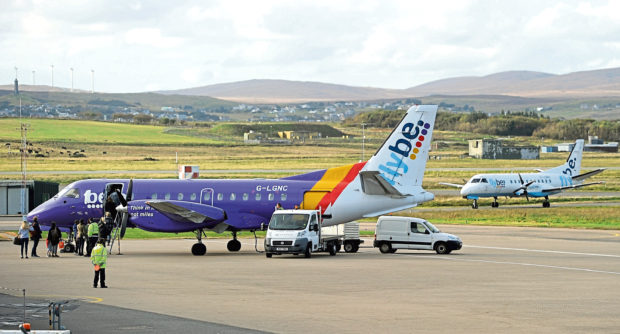 The collapse of Flybe will be a "massive blow" to Aberdeen and how it connects to the rest of the UK, the city's airport boss said last night.
Steve Szalay, managing director at Aberdeen International Airport, said talks were underway to help fill the gaps left by the stricken airline.
But he claimed competition from Inverness Airport was stopping the city from attracting major routes.
Mr Szalay pleaded with the Scottish Government to reconsider imposing Air Passenger Duty (APD) on flights from the Highland airport south in an attempt to "level the playing field".
But last night a spokeswoman said air connectivity was "critical" to the Highlands and their position remained unchanged.
People flying to and from state owned Inverness Airport have been exempt from paying APD since 1994.
Scotland-wide plans to abolish the tax were dropped in May last year and Aberdeen bosses have been long calling for greater parity with its Inverness rival.
Mr Szalay said: "HIAL lose money. They lost £5 million last year and that's Scottish Governement money going out which could be used for other things.
"What I would like to see is level playing field between ourselves and Inverness. I know there is a climate emergency and we need to reduce our carbon footprint to work with sustainable aviation but what I would like to see them do is level that playing field with Inverness routes south.
"Tax them at the same rate we're being taxed. I am not on about cancelling APD. I am on about making it the same for the routes south to what the people of Aberdeen need to pay. You are subsidising people flying out of Inverness."
It was announced on Wednesday that troubled Flybe had gone bust. Mr Szalay said he spent hours on Thursday morning helping to impound planes and reassure worried passengers.
He said: "It's terrible. Absolutely terrible. It is a massive blow to our connectivity but we are operate in a market where already other airlines are looking to fill that gap, so for example Eastern said they will continue to fly the Flybe franchise routes so all those tickets will still be honoured over the next 72 hours."
Loganair yesterday announced it was taking over four routes from Aberdeen and three from Inverness and it is hoped more airlines will announced their intent to take on more flights over the next week.
Mr Szalay said the industry was currently being hit by the effects of Coronavirus and said it was the nail in the coffin for troubled Flybe.
He added: "Coronavirus is a huge hit to the industry and was almost like the straw that broke the camel's back with Flybe. There was a deal to be had, it was always difficult with the load factors in winter but if and airline can survive until Easter and start flying in the summer it can start making money again. But Coronavirus hit it and all airlines are suffering as we are now seeing load factors down by 20%."
A Scottish Government spokeswoman last night said: "There is a global climate emergency and all governments, businesses and communities need to increase their action to tackle greenhouse gas emissions.
"We have taken the difficult decision that reducing Air Departure Tax is no longer compatible with our climate responsibilities and acted accordingly.
"Air connectivity is critical for the Highlands and Islands, and our position on the existing exemption is unchanged – it must remain in place to protect remote and rural communities."