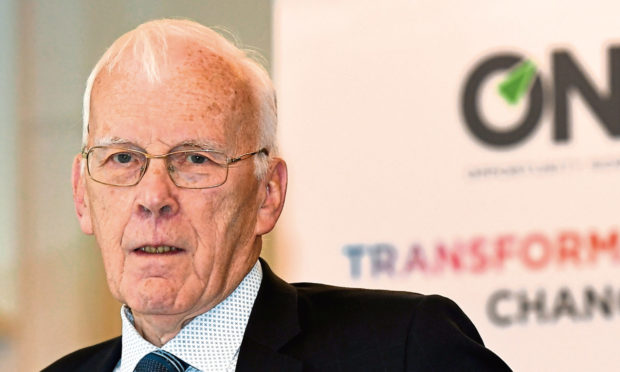 Sir Ian Wood is the only Scotland-based billionaire on a list of the world's richest people.
US business magazine Forbes, publishing its 34th annual list of dollar billionaires, estimated the personal wealth of Sir Ian, 78, and his family at $1.5 billion (about £1.34bn).
As of yesterday, the oil and gas veteran and philanthropist – who turned Aberdeen-based Wood into a global energy services giant and set up the Wood Foundation to fund good causes – was ranked 1,548th on the list, which is updated daily.
Sir Ian is a long way behind number one-ranked Jeff Bezos, who founded e-commerce mammoth Amazon and is estimated to be worth about $125bn (£112bn).
Richest in the UK, with $12.9bn (£11.5bn), according to Forbes, is James Ratcliffe, the petrochemicals and oil and gas industry entrepreneur behind Ineos Group. He is estimated to be worth $13.9bn (£12.4bn).
Forbes said its latest list showed the richest people on Earth were far from immune to the coronavirus fallout.
It added: "As the pandemic tightened its grip on Europe and America, global equity markets imploded, tanking many fortunes."
As of March 18, Forbes counted 2,095 billionaires – 58 fewer than a year ago and 226 fewer than just 12 days earlier, when it initially calculated net worths.
More than half (51%) of the remaining billionaires are poorer than they were last year, Forbes said.
US president Donald Trump, now ranked 1,142nd, has seen his "real time net worth" plunge to $2.1bn from £3.1bn (£2.8bn) a few weeks ago.
Together, the world's billionaires are now said to be worth $8 trillion, down by $700bn (about £626bn) from 2019.
Newcomers to the list include Eric Yuan, founder and chief executive of Zoom Video Communications, whose chat and webinar services have been much in demand around the world during the Covid-19 crisis.
The US has the most billionaires on Forbes' list, with 614, followed by greater China (including Hong Kong and Macao), with 456.