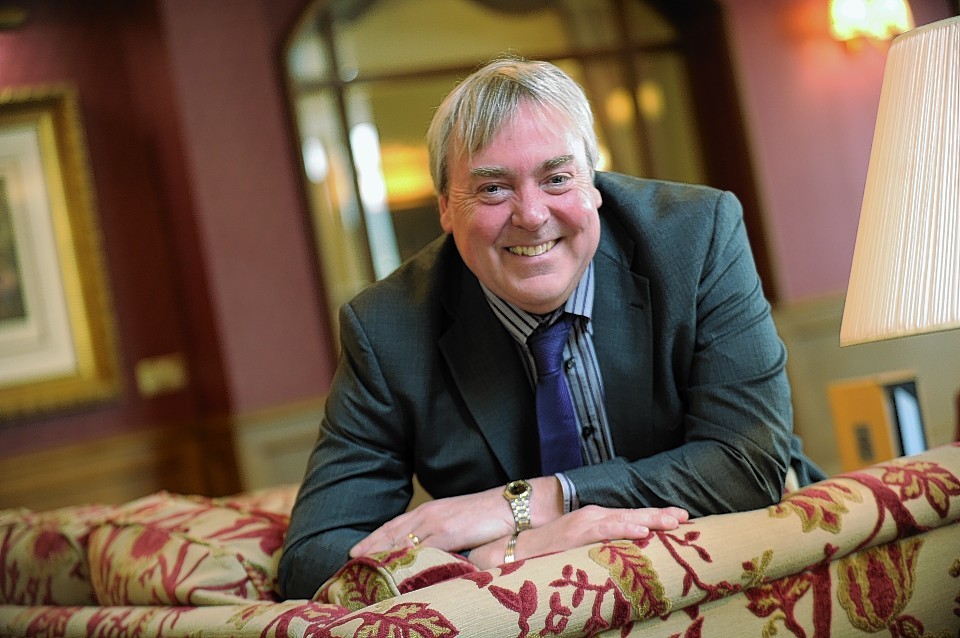 Whisky, castles, beaches and dolphins – tourism may not be the north-east's biggest industry but the head of Scotland's tourism body believes the region has plenty to offer writes Erikka Askeland
Today is the first day of the VisitScotland expo, Scotland's flagship travel trade event which takes place over the next two days at the Aberdeen Exhibition and Conference Centre (AECC).
The regular annual event has been taking place each year since 1980.
But with the support of both Aberdeenshire Council and VisitAberdeen, the aim this year is to show off the region's attractions to the global tourist trade in effort to ensure they send international pleasure seekers back to spend money.
Malcolm Roughead, the Chief Executive of Scotland's main tourist body VisitScotland, believes there is "room to grow" for the region's tourist industry.
He said: "There's a lot of work and investment going in the Aberdeen area.
"Connectivity is important – how easy is it to get there?
"If you look around the airport and the bypass, that is leading to investment in hotels. There's about seven hotel development projects in the area. It is a healthy place to be, but there's room to grow."
This year the exhibition expects to welcome 380 buyers from around the world to descend on the Granite city. This is on top of the 200 buyers from across the UK, with 230 exhibitors showing their wares.
The north-east underperforms in attracting tourists compared to the greater Edinburgh and Glasgow regions, as well as the Highlands and Islands.
According to the latest VisitScotland statistics, while 55% of tourists from overseas visited Edinburgh & the Lothians in 2013, only 13% came to Aberdeen and Shire. Scotland's largest amount of tourists comes from within the UK. But while only 12% of these came to the north-east in the year, 20% saw Edinburgh, 15% Glasgow and 18% enjoyed the Highlands and Islands, including Orkney and Shetland.
So how will the north-east raise its profile as a tourist destination?
Mr Roughead said the region needed to pull together. He said: "If you take both the city and Shire there is an amazing amount of variety from wildlife through to the whisky trails and castles. It is about bringing all of that together and understanding what he market is looking for and making sure it is packaged in a way that is accessible to people."
But he does admit that the region's mind might be focused on other industries instead – although it is possible focus on more than one. He points to Edinburgh, which is strong in banking and insurance but also invests heavily in tourism.
"In Edinburgh you have the financial service industry but tourism is a pre-eminent industry in the area.
"Whereas here, if you look at the energy sector it is very strong and contributes massively to the economy, as well as other strong business sectors such as farming and whisky.
"In terms of top-of-mindedness, we just have to work a little harder to make people appreciate what there is. There is so much there to see and do."
Born in Perth, Mr Roughead grew up in Stenhousemuir and studied at Glasgow University.
When he joined Visitscotland in 2001, it was a homecoming of sorts.
He had spent several years working abroad in Germany and South Africa, working for firms such as Nestle, Glaxosmithkline and Diageo. In 2010 he became the group's chief executive replacing Philip Riddell
"They were all great companies but this is so personal," he said of the tourism trade.
"You can empathise with what and who you are. You can identify with the product, the places, the people. It is just such a passionate industry. People. truly care what they do."
The quango estimates that more than £24million worth of business is will be conducted over the two days of the expo, while the event is expected to pump £1.7million into the city's economy.
"The opportunity to bring so many people under one roof allows the industry here to create new products that these businesses are looking for.
"For Aberdeen and the are all of those delegates and visitors who will spend money as well.
"The great thing about tourism is it is about showcasing the best of what the country and the region has to offer. There is an element of fun involved as well. People are passionate about their area and their product. It is great to see that over the period of the two days."
Q&A
Who helped you get where you are today? I've been very fortunate to have met many inspiring individuals over the years each one of whom has given advice, encouragement and support.
What do you still hope to achieve in business? 2014 has given Scotland a great platform for future growth and I want VisitScotland to play an even greater role in helping the industry to convert that interest into increased visitor numbers and spend
What are you reading, listening or glued to on TV? Just finished reading Stuart MacBride's The Missing and The Dead, have read the whole series and Logan McRae is just brilliant. Was glued to the Masters from Augusta but other than sport I don't watch TV much.
If you were a character in fiction or history, who would you be? George Smiley. I lived in Germany for seven years and was fascinated by the Cold War era
What do you drive and dream of driving? A BMW but I'm not into cars in a big way
What would your children or partner say about you? Do it now, not tomorrow. Jobs around the house are not my strength.
Which charity do you support and why? Maggie's as they do a brilliant job in supporting those with cancer and their families.