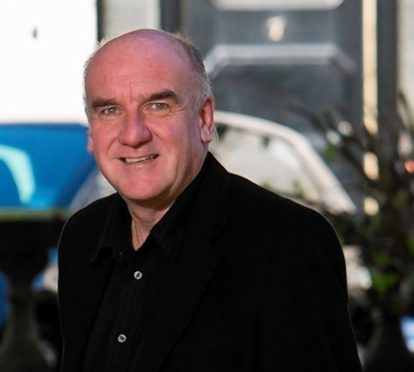 Hugh Little may not look like a typical fan of Welsh rock band Stereophonics, but it turns out the former fund manager (retired) has many surprises to offer.
Mr Little, 58, recently stepped down from his role as head of acquisitions at Granite City-based investment giant Aberdeen Asset Management (AAM) after a 28-year career with the business.
With a little more spare time on his hands, he has fashioned an enviable portfolio career, while still having the time to improve his golf game, collect rare malt whisky – as well as catch the Welsh foursome in concert at the Glasgow Hydro tonight.
Genial and relaxed, Mr Little wears some of the inevitable ups and downs that come with a long career at one of the UK's top fund managers lightly.
He was one of the first intake of staff when the company's co-founder and chief executive, Martin Gilbert, stared recruiting in earnest.
"After fellow co-founders Ronnie Scott Brown and George Robb, employees number six to 12 were all people Martin knew from school or university. I was number nine, in January 1987," he recalls.
"Apart from me and one other, the other guys in the six to 12 are all still there.
"We were all Gordonians and at Aberdeen University. I was in the same class at university as Martin – in fact I used to give him all my notes," he says impishly.
Since retiring, Mr Little has joined the board of the Drum Income Plus Reit – a property investment vehicle led by Graeme Bone. He is also an investor and a director with Tcam Asset Management, a fledgling wealth manager recently spun out of Edinburgh law firm Turcan Connell. Here he can share some of the hard won wisdom he gained with younger businesses.
Mr Little was working alongside AAM management during the split-cap crisis of 2001-2, which nearly saw Aberdeen pushed to the brink of administration. Several small investors were wiped out after putting their savings into the schemes, in what became an early forerunner of financial crises to come.
As Mr Gilbert spearheaded the firm's recovery, Mr Little was tasked with building private equity business – eventually creating a rival to 3i and which was later sold to Maven Capital partners in 2008. Then as head of acquisitions, Mr Little snapped up assets from Deutsche Bank and Credit Suisse. His last big deal was the acquisition of Scottish Widows Investment Partnership (Swip) for £650million.
"In our 32 year history we have bought 54 companies – it averages about two a year. Some small some big, but all fun," says Mr Little.
"Over 30 years we made every mistake you could make in an acquisition. Hopefully you learn from them and you don't make them again.
"Swip was a highlight. Swip was transformation for us, huge and complex. It also brought us a long term distribution arrangement with Lloyds Bank. That was a fabulous deal."
But it was his stint on the board of another crisis-prone group, Aberdeen Football Club, that tested Mr Little's mettle.
AAM had invested in the club in 1997 and both Mr Little and Mr Gilbert joined the board.
"I had been a fan all my life so to be a director was an honour. After which proceeded probably 12 of the worst years in the club's playing history," he says.
A banker friend recently produced a chart – handed over a jolly retirement party – which shows the club's fortunes over 15 years.
"As soon as I leave (the board) the league position goes up to second – I came in at the very top and left at the very bottom," he recalls with a chuckle.
"Being a director of a football club is not great fun. There's no other business where customers are so emotionally attached to the product. If you lose a game or make a mistake, the fans react to that. I don't think I have a particularly thick skin, but you need one to be a director of a football club.
"Stewart Milne must have the thickest skin I know. He's been chairman for 20 years," he adds.
But the experience has not diminished his appreciation for his beloved Dons.
"A football club losing games and the impact that had caused me many more sleepless nights than anything that happened at Aberdeen Asset Management," he says.
"As soon as I came off the board I bought a season ticket. It is a lot less stressful now."
Q & A
Who helped you get where you are today?
My late father. He died in 1980 when I was only in my 20s. I remember one piece of advice he gave me. He told me every problem in business you can eventually drill down to a breakdown in communication.
I followed that bit of advice through my career and I found it to be true. In fact you can apply it to any sphere of life. If you get communications right with colleagues, staff, customers and clients, everyone knows what they should be doing.
Martin Gilbert would be my other mentor. He brought me into the business when I didn't know anything about investment. He taught me a lot about corporate life.
What do you still hope to achieve in business?
I'd like to help other businesses whether as a director or an investor. I'd like to help my wife achieve her goals in her business. I'd like my golf handicap to come down to where it once was. And I'd like to see some places in the world I haven't been to before.
If you were in government, what would you change?
I'd abolish inheritance tax. I just think it is ridiculous that you pay taxes all your life, including on all the savings you make, and once you die you pay all the taxes again. It's fundamentally unfair.
What are you reading or glued to watching on TV?
I really only watch sport on TV. This week I took delivery of a 78" television. It's made my week.
I like thriller series like 24. My favourite programme ever was the West Wing.
If you were character in fiction or history, who would you be?
Santa Claus. I am a huge Christmas fan, always have been, and even though my kids are grown up now, I still put on a bit of a show of being Santa, with some special presents all round. I can't wait to have grandchildren, that will be awesome at Christmas time. And what could be better than being Santa, giving presents to kids all over the world once a year? I think that would be a dream job.
What kind of car do you drive and what do you dream of driving?
I drive a Range Rover, and my dream car is an Aston Martin, of course.
What would your wife and children say about you?
I think they would say I was generous. I hope they would say I was funny, and slightly nuts sometimes.
What charity do you support and why?
We support lots of them. Guide Dogs for the Blind is one. I'm a big dog lover.