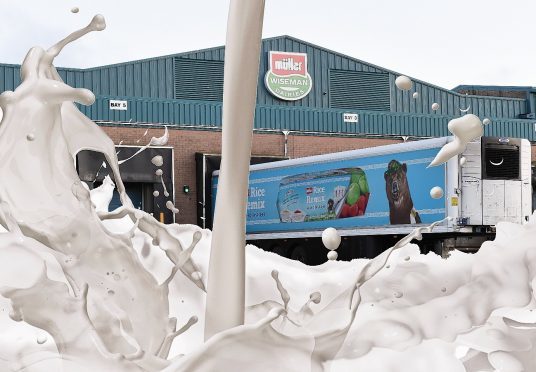 It is feared more than half the dairy farmers in the north-east could be forced out of business in the next few months if the region's only milk processor closes.
More than 40 farmers attended an emergency meeting yesterday with representatives from Muller Milk and Ingredients.
The talks followed the dairy giant's announcement that it had entered a 45-day statutory consultation over the closure of its processing site at Tullos in Aberdeen, putting 89 jobs at risk.
The factory's 43 farmer suppliers were yesterday given two options if the factory closes – continue to supply Muller but be forced to pay a transport charge of 1.75p per litre to get milk to another processing site in Bellshill in North Lanarkshire, or give notice to quit to Muller and wind down their dairy farming business over the next 12 months.
Following the meeting, frustrated and upset farmers said they had been told the factory could shut as early as two weeks after the end of the consultation period in the middle of May.
One farmer said the majority of producers were only getting paid 20p a litre for their milk and they could not afford another cut of 1.75p for transport costs.
Industry figures suggest it costs about 30p a litre to produce milk.
Another farmer was reduced to tears – he said he would carry on milking cows but said his son would be forced to take a pay cut from £300 a week to £150 to try to keep the business afloat.
Rural Affairs Secretary Richard Lochhead said last night said he had spoken to Muller and would have further conversations with the company over the coming days to consider possible options for the future of the Tullos plant.
A spokeswoman for Aberdeenshire Council said: "We are disappointed it has come to this. In what is already a difficult economic climate for our dairy farmers this will only add to their worries.
"The council has offered support and assistance where we can and we will continue to do so throughout the coming weeks."
A spokesman for Muller said that in the event of the company going ahead with its closure plans, the site would shut "as soon as is reasonable practicable".
He said: "We have now started to conduct a full 45-day consultation process and it is our intention to hold collective consultation meetings with employees and we have offered one to one meetings with farmers."
Read more about Muller's plans and their impact on the dairy sector in today's free Farming supplement.