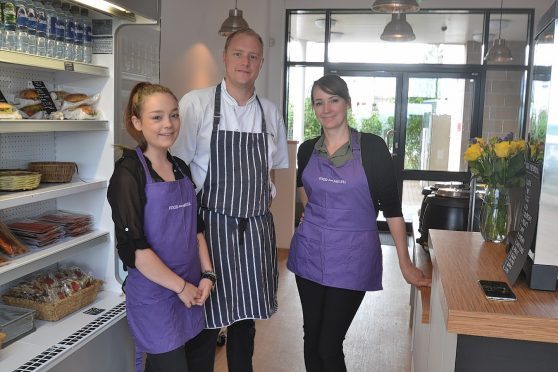 A cafe specialising in local produce has been opened by a co-operative in Oban.
The cafe, Food from Argyll, has taken up a former passenger area on Oban pier managed by CalMac Ferries boat owner, Caledonian Maritime Assets (CMAL).
A social enterprise, the Food from Argyll co-operative has employed three full time staff to run the café all year round after collaborating with CMAL to establish the eatery.
The café is Food From Argyll's first bricks and mortar establishment and is a major step forward in their development, providing a base from which to run their trading arm. The co-operative has been supported over the last nine years in part by Highlands and Islands Enterprise (HIE) and Argyll & Bute Council, as well as receiving European and national funding for specific projects. Funding for the café project came from Food from Argyll's successful participation in the Festival14 catering for the Commonwealth Games in Glasgow.
Since it opened this week, customers can buy coffee supplied by Home Ground Coffee in Helensburgh, along with cakes, rolls, soups and hot dishes featuring Argyll produce as key ingredients to eat in or take away. Open from early morning until early evening, the menu will vary seasonally and showcase local food. As the co-operative boasts a number of local smoked fish producers amongst its members, the café will feature one smokehouse each month.
Virginia Sumsion from Food From Argyll, said: "Last year we co-hosted the Taste for Tourism conference which helped inspired us to develop food tourism of which the café on the pier is a prime example. It's been a real learning curve turning an unused building into a new café for people to enjoy and experience the amazing food we have available throughout Argyll."
The new staff includes head chef Tommy Johnston, who has helped to develop Glasgow-based restaurants including Lebowskis, The Finnieston and the Crafty Pig before coming to Oban to bring up his young family. Claire Bruce is managing the Café, assisted by Shannon Feaks, both Oban residents with careers in customer service and catering.
Lorna Spencer, director of harbours at CMAL, said: "This is a great project and we are really happy to have been involved in the development of the site. We wish Food From Argyll all the best for the future."
During the development of the site, local businesses have been used to provide signage, graphic art, carpentry and supplies. Food from Argyll member, Oban Chocolate Company's Helen MacKechnie, has been lending her expertise and support to help get the project off the ground. The project will continue to receive on-going support from the Argyll & the Isles Tourism Co-operative.
Winston Churchill, chairman of Food from Argyll, said: "We'd like to thank everyone who has shown their support and helped get this project going. Now we can all enjoy some of Argyll's famous locally produced food in a lovely café by the sea. We're looking forward to seeing a lot of friendly faces and new visitors over the summer."