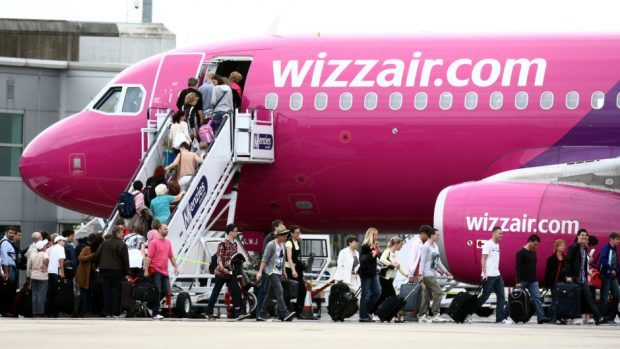 Wizz Air has cast a cloud over the future of its UK routes, including into Aberdeen, by chopping growth plans as a result of the Brexit vote.
The Hungary-based airline said yesterday it had already started "re-adjusting" its network.
It added it would halve its rate of UK expansion during the second half of its current trading year to 15%, from the 30% growth planned before last month's referendum.
New routes will not be affected by the move but Wizz said it would not be increasing frequencies on any of its UK services.
The low-cost carrier launched flights between Aberdeen and the Polish city of Gdansk last summer.
Another Wizz-operated service between the Granite City and Poland, this time involving the eastern European country's capital, Warsaw, took off earlier this year.
A spokesman for Aberdeen International Airport yesterday said both twice-weekly routes were doing well, with their load factors – a measure of how well an airline manages to fill planes – running at above 90%.
He added: "Wizz Air has proved extremely popular with passengers since it joined the airport last year.
"There is consistent and strong demand for both its Warsaw and Gdansk services and we will continue to work with the airline to ensure it enjoys further success here at Aberdeen."
Reporting first quarter results, Wizz said: "The UK's decision to leave the European Union has led to a notable weakness in fares (in euro terms) on routes to and from the UK.
"This is mainly due to the much weaker British pound, which is currently 19% lower than the same period last year versus the euro.
"Wizz Air has already started re-adjusting its network due to this weakness and halving its intended second half growth to the UK and re-deploying this capacity to other non-UK routes."
Chief executive Jozsef Varadi added: "This is a translation, FX (foreign exchange) issue, not (due to) underlying volume demand and/or a change in consumer behaviour.
"We are a euro company – every (pound) sterling we earn in revenue translates into euros, and it is 19% less euro than what it was a year ago."
The airline, which has its headquarters in Budapest, said it remained confident of meeting guidance given in May for net profits of £205-£213million in the year to March 2017.
That would represent growth of at least 27% and contrasts with profit warnings issued by British Airways-owner International Airlines Group and easyJet shortly after the EU referendum.
Mr Varadi said Wizz had an advantage over these other airlines because of its different geographical focus and ability to adjust capacity quickly.
First quarter pre-tax profits at Wizz, which now operates 420 routes from 124 airports, were up by more than 52% at nearly £44million.
Passenger numbers were up by 18% to 5.8million.