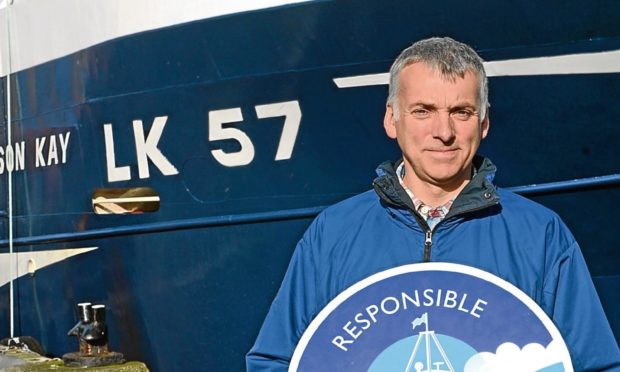 A Shetland boat has become the 100th in the UK to be certified under Seafish's Responsible Fishing Scheme (RFS).
The Alison Kay, a white-fish vessel owned by skipper James Anderson, was judged to have met the strict standards required after an independent audit by Acoura Marine .
RFS is a best practice accreditation scheme backed by major supermarkets and food service providers including Waitrose, M&S and Direct Seafoods.
Relaunched last year, it requires boat owners and skippers to show they are operating to industry-recognised best practice in five core areas: health, safety and crew welfare; training and professional development; the vessel and its mission, care of the catch; and care for the environment.
Mr Anderson said: "This qualification under the scheme both reassures my crew and those who buy my product know that I am doing everything within my power to have the safest voyages possible."
To date, 28 UK seafood processors, value-added manufacturers, retailers and food service suppliers have committed to putting RFS at the heart of their sourcing policies.
Aoife Martin, operations director at seafood trade body Seafish, said: "Certifying our 100th vessel is a significant achievement for the scheme and shows that an increasing number are recognising the benefits.
"Applying for the scheme has never been easier and we would encourage all vessels that are adhering to best practice to apply to join this global standard."
Meanwhile, a campaign is growing for Shetland to become home to a national fisheries research and management centre once the UK quits the European Union and its Common Fisheries Policy (CFP).
It is hoped the UK and Scottish governments can work together to create the new facility, most likely at the NAFC Marine Centre in Scalloway.
The proposal is included in a new 10-year plan drawn up by the Shetland Partnership Board to attract people to live and work in the isles.
Fisheries is by far the largest industry in Shetland, with more fish landed in the islands than in England, Wales and Northern Ireland combined.
Shetland Islands Council head of economic research Douglas Irvine said the UK would have to do more of its own science on fish stocks once it leaves the CFP. "The national fisheries research centre idea relates to Brexit and the UK achieving full control of its territorial waters for fishing," he added.