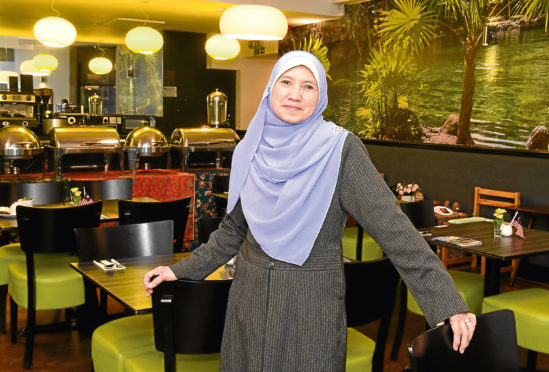 Each week, we ask small businesses key questions.
Here we speak to Normala Abd Rahman, who runs Selera Malaysia Bistro in Correction Wynd, Aberdeen.
How and why did you start in business?
I graduated from a university in the US with a degree in physics and soon began teaching both physics and mathematics in a high school.
My husband was running a safety and engineering consulting firm in the oil and gas sector serving local and regional markets. He needed a partner, so I took a 180 degree turn in my career, quit teaching and joined his business, taking care of the administration and finance department.
As part of business expansion, my husband and I travelled extensively to explore opportunities in other markets and participated in oil and gas shows worldwide.
In 2013, we visited Aberdeen for the first time to participate in the SPE Offshore Europe Conference and Exhibition and it was love at first sight. We instantly felt at home in the Granite City and adored the friendly and welcoming people.
We also found there was an international and diverse culture here, with a variety of restaurants, but also a gap in the market as there was no Malaysian restaurant.
From there, the idea of Selera was born and that gap was filled in July 2017.
How did you get to where you are today?
Embarking on the new adventure and moving from crude to cooking oil was tough. There were many late nights pouring over business plans and drawing up a strategy.
Fortunately, we were blessed with support from the Federation of Small Businesses (FSB), Business Gateway and others who were there to make sure we weren't alone and continue to support us.
Who helped you?
I can't do it without my life partner – my husband (Hazim Noordin) – who is my backbone. Without him pushing me forward, I wouldn't be able to run the business.
Our five children are also all very supportive, with three choosing to study here in Aberdeen at Robert Gordon University, as are our friends in Kuala Lumpur.
What has been your biggest mistake?
Running a business in a new country and environment comes with many unknowns. There is no clear checklists on the do's and don'ts. We ended up relying on many services provided by others but, unfortunately, not all vendors were professional. Mistakes are inevitable in a young business and we continue to learn.
What is your greatest achievement?
The restaurant itself. There's always something new to learn – from choosing and purchasing the best fresh ingredients to cooking, welcoming customers and responding to feedback and reviews.
If you were in power in government, what would you change?
Aberdeen and many of its businesses have become dependent on the oil and gas industry.
New initiatives, incentives and an investor friendly approach must be introduced to bring back and attract new businesses. Making Aberdeen vibrant and dynamic again is paramount.
What do you still hope to achieve?
Selera does feel the strain in a slow economy. Malaysian restaurants are a hit in other major UK cities, with customers queuing up to dine.
I dream we will soon have the same here at Selera. From there, I hope to open branches throughout Scotland.
What do you do to relax?
I especially like shopping for ornaments and antiques. I also like to give something back to those less fortunate and often spend time donating to the city's homeless.
What are you currently reading, listening to or glued to on the TV?
Running a new business leaves little time for reading, listening to music or watching TV, but when I can I mostly surf YouTube or Ted Talk, and read inspirational books.
What do you waste your money on?
I am rather careful with money but usually spend the most when I'm travelling. I like nice-to-have but not essential items.
How would your friends describe you?
Trustworthy, caring, sincere and ready to be with them during rain or shine. Someone with integrity.
What would your enemies say about you?
I don't have any enemies but if I did, they'd say trustworthy, caring, sincere and ready to be with them during rain or shine.
Someone with integrity – and they'd soon be my friend.
What do you drive and dream of driving?
Currently a Zafira, but I dream of being reunited with my Mercedes or Toyota Estima which we left in Malaysia.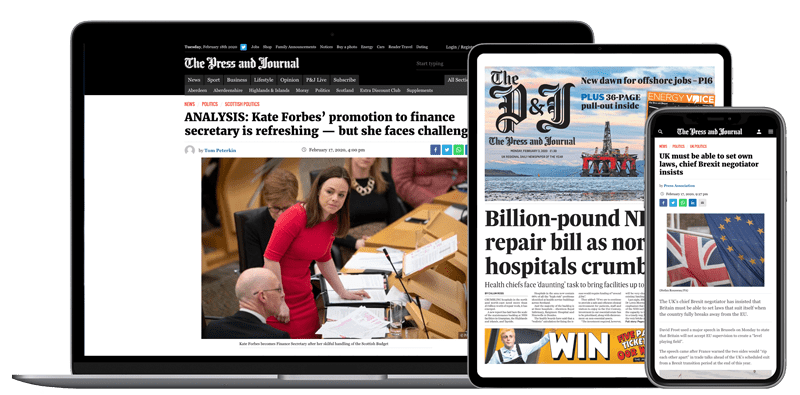 Help support quality local journalism … become a digital subscriber to The Press and Journal
For as little as £5.99 a month you can access all of our content, including Premium articles.
Subscribe