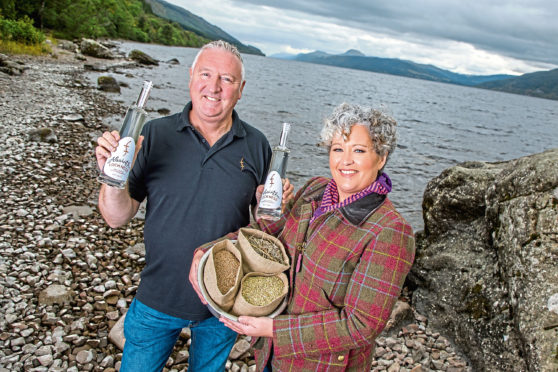 Each week, we ask small businesses key questions.
Here we speak to Lorien Cameron-Ross, who runs drink firm Loch Ness Spirits, together with her husband, Kevin
How and why did you start in business?
My family has lived on a small estate close to Inverness for more than 500 years. From a very young age I had my sights set on being a doctor. I started as a medical officer in the Army, where I trained as a GP before touring in Iraq. I completed my short service commission, then left the Army with my husband, Kevin, and two young children – Hannah and Alice – in tow.
We returned to Loch Ness, and I have worked as a self-employed GP ever since in the local A&E department and a variety of practices.
How did you get to where you are today?
Kevin took a career break to look after our daughters. By 2015 they were becoming more independent so we looked for a new opportunity – something that would create meaningful work and income.
On a gin tour in Inverness we were told juniper was in short supply and that Scottish distillers tended to import their berries. I was sure there was lots of juniper where I walked the dog and we thought about offering it to gin companies. When we discovered just how laborious it is to pick we quickly changed our minds.
Then we thought "let's make our own gin" and began researching the pros and cons, identifying the barriers and working out how we would overcome them.
Just 12 months later we were cruising down Loch Ness, with 80 guests, celebrating the launch of Loch Ness Gin.
Fast forward another three years and we now have a shop/office selling a number of outstanding products, including a world champion absinthe.
Kevin works on the business full-time, while I continue to practise medicine and support the business administratively. We have one full-time member of staff and rely heavily on family for support at busy times.
Who helped you?
The encouragement and support we received from local companies, friends and family has been immense, and established distillers helped us get up and running.
In our second year we were supported by Highland an Islands Enterprise whose Scotgrad scheme allowed us to take on staff and secure an innovation grant to create the first augmented reality app for a craft spirit company.
The Highland Business Women network gave me connections to local, established businesswomen. They awarded me "best new business" in 2016 and "most inspirational businesswoman" this year.
We joined the Federation of Small Businesses in 2018 to secure additional support as we grew the business, and Scotland Food and Drink and the Scottish Distillers Association have been good for peer support.
What has been your biggest mistake?
No big mistakes so far, though we have learned to trust our own instincts.
What is your greatest achievement?
Winning an SFD award for best distilled product.
If you were in power in government, what would you change?
We would make HM Revenue and Customs excise rules easier to navigate, and they should provide tax breaks for distilleries as already happens for small craft breweries.
What do you still hope to achieve?
People naturally want to visit a distillery in such an iconic area. We hope our Loch Ness Spirits Experience will be available at our HQ soon.
What do you do to relax?
All thoughts of a work-life balance have evaporated and I'm on the treadmill.
What are you currently reading, listening to or glued to on the TV?
I am working my way through the Outlander series and I have a weakness for medical dramas, despite spending much of my week doing it for real.
What do you waste your money on?
I wouldn't call it a waste but I do have more vintage dresses than some people may think are absolutely necessary.
How would your friends describe you?
Ambitious and not scared of a challenge.
What would your enemies say about you?
Relentless and a bit scary when taking on a challenge.
What do you drive and dream of driving?
I drive a wee Ford but ideally I would channel my inner James Bond with an Aston Martin.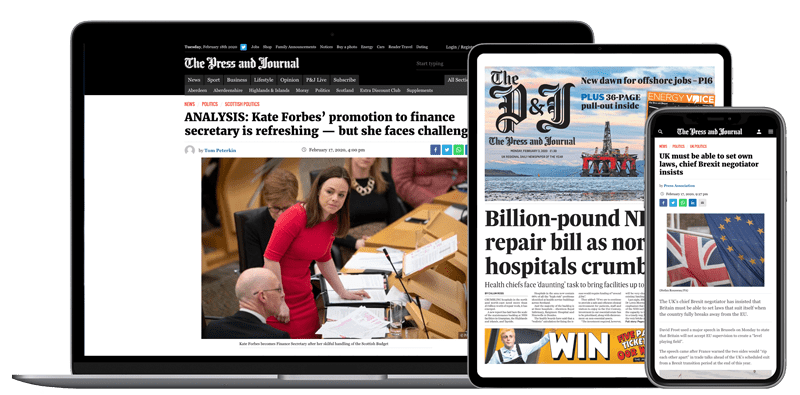 Help support quality local journalism … become a digital subscriber to The Press and Journal
For as little as £5.99 a month you can access all of our content, including Premium articles.
Subscribe