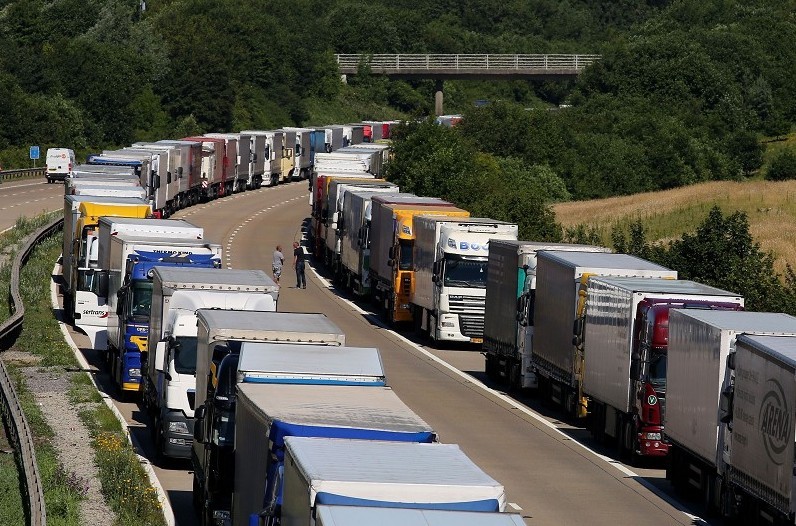 Haulage firms in the north and north-east have told of their horrendous struggles crossing the English Channel, with drivers waiting days in the sweltering heat as a strike by French ferry workers caused chaos this week.
The strike, which involved a blockade of the port of Calais, was suspended by union chiefs yesterday.
However, thousands of British lorry drivers were still facing delays on roads into and out of the country.
Emergency water and food was distributed on Wednesday by Kent County Council as temperatures hit 35C on the hottest July day on record in the UK.
Ferry services were reinstated yesterday but P&O was still advising against all but essential travel.
Last night managers of haulage companies branded the situation "nonsense" and raised fears that the strikers may take to the picket lines again next week.
Two lorry drivers from Peterhead-based Lunar Freezing and Cold Storage were left "stranded" in France for almost 40 hours after dropping their cargo of fish at supermarkets in the Netherlands and Germany.
The pair had been on the continent since Monday and are due to return tomorrow.
Last night Ross Gordon, cold storage manager, said the strike was the "same old story".
He said: "I was on the phone to one of the drivers yesterday and he said the temperature in his cab was reaching 41C.
"There is nowhere to stop and get out and no facilities, we tell our drivers not to even stop for fuel in France because the immigrants try and jump on the lorries.
"There might be another strike next week.
"It's really an intolerable situation."
A driver from Lubbers spent 18 hours waiting to leave the UK on Wednesday after leaving Aberdeen bound for the Netherlands to deliver "urgent" oil freight for a rig in Norway.
Stewart Ferguson from the firm said: "The strikes are an ongoing saga.
"We lost a full day in delivering those parts but what's almost a bigger danger for us is all the immigrants trying to board the lorries."
A manager at transporter Stevens of Wick said: "This has just been the usual deal really – it's nonsense.
"We've had some delays but we've been lucky in some respects that there haven't been many orders this week."