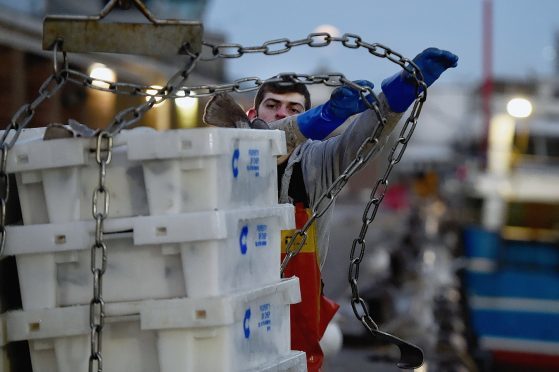 Days-at-sea curbs on Scotland's fishing fleet have been consigned to history after MEPs sounded the death knell.
It is a radical departure from European Union rules which have frustrated fishers for years, compounding savage quota cuts and in some cases driving people out of the industry.
The need for change was prompted by an EU-wide ban on fish discards, the wasteful practice of throwing unwanted catch back in the sea.
Already in place for some white-fish species, including the north-east fleet's staple haddock, the ban – or landing obligation – will be extended to cod from January 2017.
North Sea cod stocks are in better shape than they have been for years, and continued days-at-sea restrictions would have impeded the fleet.
Scottish Fishermen's Federation chief executive Bertie Armstrong said: "The background to this is that there is no longer any need for the much criticised EU cod recovery plan, which imposed these days-at-sea restrictions.
"Thanks to the sacrifices of our fishermen in pioneering a whole range of conservation measures, including real-time closures and technical alterations to fishing gear, the North Sea cod stock is now well on the road to recovery.
"The end of this effort limitation for cod is very welcome as it will enable the fleet to fish with more flexibility, which in turn will aid fish stock conservation – for example, it will ensure boats are not forced to fish in areas closer to shore because of the previous time constraints.
"It is worth pointing out this does not mean there will be more cod to catch as there will still be strict quotas to adhere to, and as such will have little impact on how the landing obligation works."
Scots Tory fishing spokesman Ian Duncan, a member of the European Parliament's fisheries committee, said: "Fishermen have sacrificed much and worked incredibly hard to restore cod to sustainable levels. This has involved careful planning and they should be praised for their efforts."
The green light from MEPs was the final formality standing in the way of an amendment to a 2008 regulation establishing a long-term-plan for cod stocks in North Sea, west of Scotland and certain other fisheries.
Under the new rules, which will apply from January 1, fishers will face no obstacles to landing all their catches as they will no longer be subject to time limits.