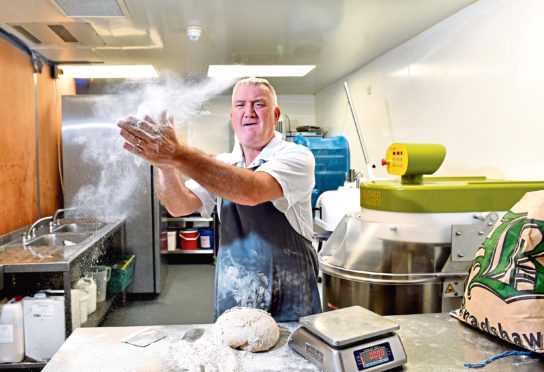 Small and medium-sized enterprises (SMEs) are the engine room of the UK economy.
Politicians of all hues will often be heard saying it but Mike Cherry, chairman of the Federation of Small Businesses (FSB) would like to see many more of them go beyond paying lip-service to the fact.
Mr Cherry was recently in Aberdeen to find out how FSB members in the north-east – most of them part of a supply chain in some shape or form – are coping in the face of a barrage of trading pressures.
He learned, for example, that a parking permit for two vehicles outside the Bread Maker in Rosemount is now costing that business £500 a year. This is up from £100 just two years ago.
If the Bread Maker adds an extra delivery van to the two it has now, it will have to fork out an extra £500.
For a large plc that kind of expense would be small change. But for an SME facing day-to-day cash flow challenges it can stifle growth and potentially be the difference between the business being profitable or loss-making.
One of the main gripes of SMEs throughout the UK is the tardiness of some of their biggest customers in settling their bills.
This has been a long-running battle for the FSB and, while some inroads have been made thanks to the efforts of UK small business commissioner Paul Uppal, late payments are still a major problem.
Mr Cherry said: "A large percentage of our membership is part of the supply chain. Here in Aberdeen they are in many cases part and parcel of the oil and gas sector.
"The number one issue for the supply chain throughout the UK is late payments.
"We are at last getting some traction with the UK Government to bring about a desperately-needed change of culture and the small business commissioner has been given greater powers, including the power to name and shame the worst offenders."
Public-sector customers can lead the way in achieving this culture change, helping to improve the cash flow of SMEs that are often left waiting 90 days or more for their money, Mr Cherry said.
The worst example of contractual late payment he knew of was 138 days, he said, adding: "Other countries just don't seem to have this late-payment culture.
"The public sector can really help if they put their contractual terms with tier-one suppliers all the way through the supply chain. That is happening but we need to see a lot more of it."
Legislation introduced in April 2017 required all large businesses in the UK to publish their payment practices.
Eighteen companies – including BT, British American Tobacco, and Centrica – have been suspended from the Prompt Payment Code for failing to pay suppliers on time.
The code sets out standards for payment practices and best practice and is administered by the Chartered Institute of Credit Management on behalf of the Department for Business, Energy and Industrial Strategy.
Late payers turned into non-payers for the Bread Maker during the oil and gas downturn, putting the business under severe pressure.
Donald Anderson, the social enterprise's chief executive, said: "It's a major issue.
"One of the perks of FSB membership – and one of the reasons we joined – is the legal advice on debt recovery."
Issuing poor payers with a formal warning of debt-collection proceedings "takes the personal element out of it," he added.
Mr Anderson reckons the Bread Maker has had about £67,000 wiped off its income over the past three years because customers owing the business money have gone bust.
Unfair business practices, such as forcing suppliers to accept poorer terms, are another bugbear of the FSB.
Mr Cherry said they were particularly prevalent in the construction industry but affected all kinds of suppliers who were often too afraid to speak out in case they got no more work.
He added: "The FSB will always take members' issues forward anonymously if needed.
"There is a carrot-and-stick approach to discussions with those who need to change their practices."
The FSB made clear its wish list of priorities – further progress on tackling late payments and unfair practices, as well as crippling business rates and fast-rising employment costs – to Boris Johnson and his rivals during their recent campaigns to become prime minister.
An increase in the National Insurance Contributions (NICs) employment allowance from £3,000 to £4,000 and NIC "holidays" were among ideas the federation put forward for helping the UK's hard-pressed SMEs.
Migrant skills after Brexit are another concern, with one-in-five FSB members employing people from elsewhere in the European Union.
One-in-10 smaller businesses in Scotland is led by an immigrant entrepreneur and contributing more than £13 billion to the Scottish economy, while also providing 107,000 jobs, according to a recent FSB report.
Mr Cherry also highlighted patchy access to high-speed broadband and a decent mobile phone signal as a perennial problem for SMEs around the UK, particularly in rural areas.
Britain is in the slow lane in rolling out new technology, compared to many other parts of the world, he said, citing Finland's march towards a 6G country-wide phone network.
Despite there being no obvious sign of any breakthrough on Brexit, Mr Cherry was confident a "pro business" deal would be struck between the UK and the rest of the EU before the October 31 deadline.
Mr Cherry is a regular visitor to Number 10 as part of the FSB's mission to make sure the voice of small firms is heard at the highest levels.
On the new prime minister, he said: "I'm very much looking forward to strong engagement with the issues our members are facing."
Bread Maker sees opportunities to expand, but quality comes first
The Bread Maker is a commercially focused social enterprise, based in Aberdeen, producing and selling a wide range of baked items.
Its produce is sold through its own coffee shop and takeaway, as well as in some of the top restaurants and coffee shops around the Granite City and Aberdeenshire.
The venture was inspired by local GP Dr Denis Durno, who understood the benefits of an inclusive and supported work environment for people with learning disabilities through his work with other organisations.
As a father of two children with learning disabilities Dr Durno was heavily involved with Camphill School Aberdeen – a community for people with a variety of special needs – and later became its chairman.
He and a few colleagues from the healthcare sector aimed to create a business where adults with learning disabilities could be at the heart of every aspect of the work, helping break down barriers and change deeply entrenched attitudes.
The Bread Maker was launched in 2006 to provide meaningful training, educational and social activities to people who are still in many ways excluded from mainstream society.
The business – run by the Aberdeen Day Project charity – later diversified into supplying food to corporate clients, as well as wholesale bread and confectionery to hotels and restaurants.
Chief executive Donald Anderson and his team are passionate about bread and always happy to share their knowledge via bread-making courses, while also welcoming customers to their shop on Rosemount Viaduct.
Mr Anderson, who worked in supermarket bakeries and started his career as a part-time grocery boy, said the "quality eatery" at the heart of the business was now, literally, its shop window.
The Bread Maker operates with a core team of 24 employees, plus volunteers, with Mr Donaldson in charge of the business side and development manager Karen Bain looking after the training and social enterprise aspects.
Despite having recently gone through a particularly challenging spell, with the oil and gas industry downturn hitting corporate customers hard, the supply operation is flourishing again.
Mr Anderson said he saw many growth opportunities ahead as the north-east economy recovers, but insisted quality must come first.
"We don't want to overstretch ourselves," he said, adding: "It's all about what we can realistically deliver, while keeping the produce fresh."
The bakery is up and running at 4am most days of the week so two delivery vans can be on the road by around 7.30am. The sit-in coffee shop and takeaway opens at 8.30am every day except Sundays.
A typical week sees the Bread Maker producing about 2,000 loaves and up to 6,000 other items.
A nearby property was recently acquired to facilitate expansion amid growing demand.
Mr Anderson said the central location in Aberdeen was vital for the business as many of the staff rely on public transport and would struggle to get to work if it were based anywhere else.
The bakery suffered a setback last August when it caught fire and was forced to close for a few days but the dedicated team were soon back in action baking, selling and delivering their bread and other products.
Keeping up to date with technology is another challenge, and the Bread Maker has recently invested about £5,000 in going digital and making sure its phone connection is up to speed.
Its bread-making courses are another fairly recent introduction, with the social enterprise offering classes for small groups of up to six people.
The master baker and staff take learners through the whole process of producing breads, from basic white loaves to focaccia and ciabatta.
Corporate and bespoke catering is another fast-growing part of the overall business, with sandwiches, wraps and canopies made in-house for a wide variety of events, while the Bread Maker also has a presence at some of the region's most popular weekend festivals.