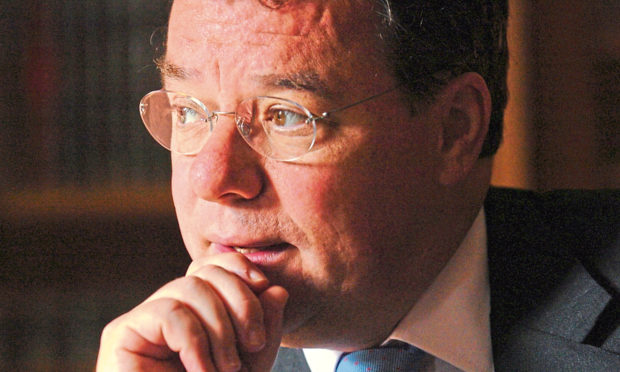 Bosses at Standard Life Aberdeen (SLA) have insisted the Scottish financial services giant can reap the rewards of action to stem the loss of cash withdrawals from its managed funds.
Chief executive Keith Skeoch said yesterday the company had built "resilient" foundations, had a strong balance sheet and was poised to benefit from "momentum in the business".
Mr Skeoch was speaking after the Edinburgh-based group posted results showing a 10% drop in underlying pre-tax profits to £584 million last year, from £650m in 2018.
SLA said the fall was largely a reflection of lower revenue, down by 12.5% at £1.63 billion in 2019, after customers continued to pull out cash.
Statutory pre-tax profits for the latest period came in at £243m, compared with losses of £787m the year before.
Assets under management fell by £56.5m to £544.6bn, which SLA said was due to redemptions, including Lloyds Banking Group (LBG) tranche withdrawals of £41bn, partly offset by increased gross inflows and "positive market movements".
Mr Skeoch and chief financial officer Stephanie Bruce highlighted a slowdown in net outflows to £17.4bn, excluding the LBG withdrawals, compared with a total of £40.9bn in 2018.
SLA's CEO was upbeat about prospects for the business despite the "pure panic" of Monday's financial market mayhem, when stock exchanges around the world suffered their worst day since the 2008 financial crisis.
"We are seeing a bit of calm today, although I would not be at all surprised to see an enhanced level of volatility ahead," he said, adding that more patient investors would do well to avoid looking at a "small rear view mirror".
Mr Skeoch also said it was impossible to predict how deep the current "pothole" of economic activity may reach, or how long it might be there for.
But he was confident the coronavirus-fuelled financial market slump would not shake the faith of SLA's institutional, wholesale and strategic insurance clients.
And he stressed that there was no adverse impact on SLA's pensions business.
"People are making pension contributions the whole time and those don't stop," he added.
SLA was created through the 2017 merger of Standard Life and Aberdeen Asset Management.