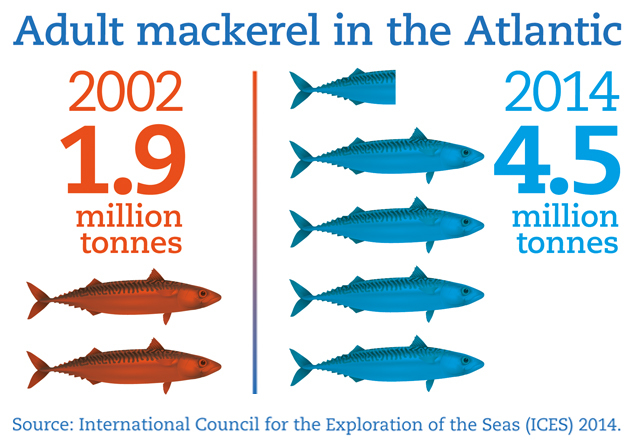 Scotland's most valuable fish stock is flourishing after years of bitter wrangling over catch limits, new figures show.
According to science body the International Council of the Sea (Ices), north-east Atlantic mackerel spawning stock biomass (SSB) was up again last year after a slight fall in 2012.
SSB is the total weight of all sexually-mature fish in the stock.
The Ices update is a welcome boost for boats catching this country's most precious stock.
It also comes just a few months after a major breakthrough in long-running international efforts to strike a deal on quotas.
The so-called mackerel war calmed down in March, thanks to a long-awaited agreement between the European Union, Norway and Faroe.
But Iceland called the arrangement "unacceptable" after it was left out in the cold.
Ices, which advises European Union policymakers on how much fish should be caught, says the last four years have each produced an SSB in excess of 4million tonnes for the mackerel – a level achieved only twice, in 1984 and 1985, in the past 33 years.
The stock – fished by countries including Scotland, Ireland, Norway, Iceland and Faroe – was found to have had an SSB of 4.4million tonnes last year.
This compares with a low of 1.9million tonnes in 2002.
The scientists' new figures were hailed by the Scottish Pelagic Processors' Association (SPPA) as proof that mackerel numbers are back to full reproductive capacity, and being fished responsibly.
SPPA said the data also confirmed reports by UK fishermen of record mackerel shoals in recent years.
Association chairman Ian McFadden added: "This is fantastic news and testament to the seven north-east Atlantic fisheries which came together to agree a management plan to safeguard the sustainability of the mackerel stock.
"It's also great news for the consumer. Mackerel is an affordable, extremely healthy fish, high in Omega 3.
"And it's good news for the UK economy after years of concern within the industry.
"Mackerel is the UK's largest fishery. It is worth around £500million and employs over 2,000 people."
Mr McFadden said he hoped the new figures and this autumn's new management plan would give consumers and industry bodies confidence in the sustainability of mackerel products.
Scottish Pelagic Fishermen's Association chief executive Ian Gatt said: "We are delighted that the mackerel stock is in such excellent shape.
"This scientific confirmation should bring a welcome element of stability to our sector.
"Indications also suggest that the stock level will remain at such healthy levels for a number of years to come."
Scotland's mackerel fishery is expected to be one of the first to undergo a full reassessment under the Marine Stewardship Council's accreditation system for healthy fish stocks
It was suspended from the scheme two years ago due to overfishing of the stock by Iceland and Faroe.