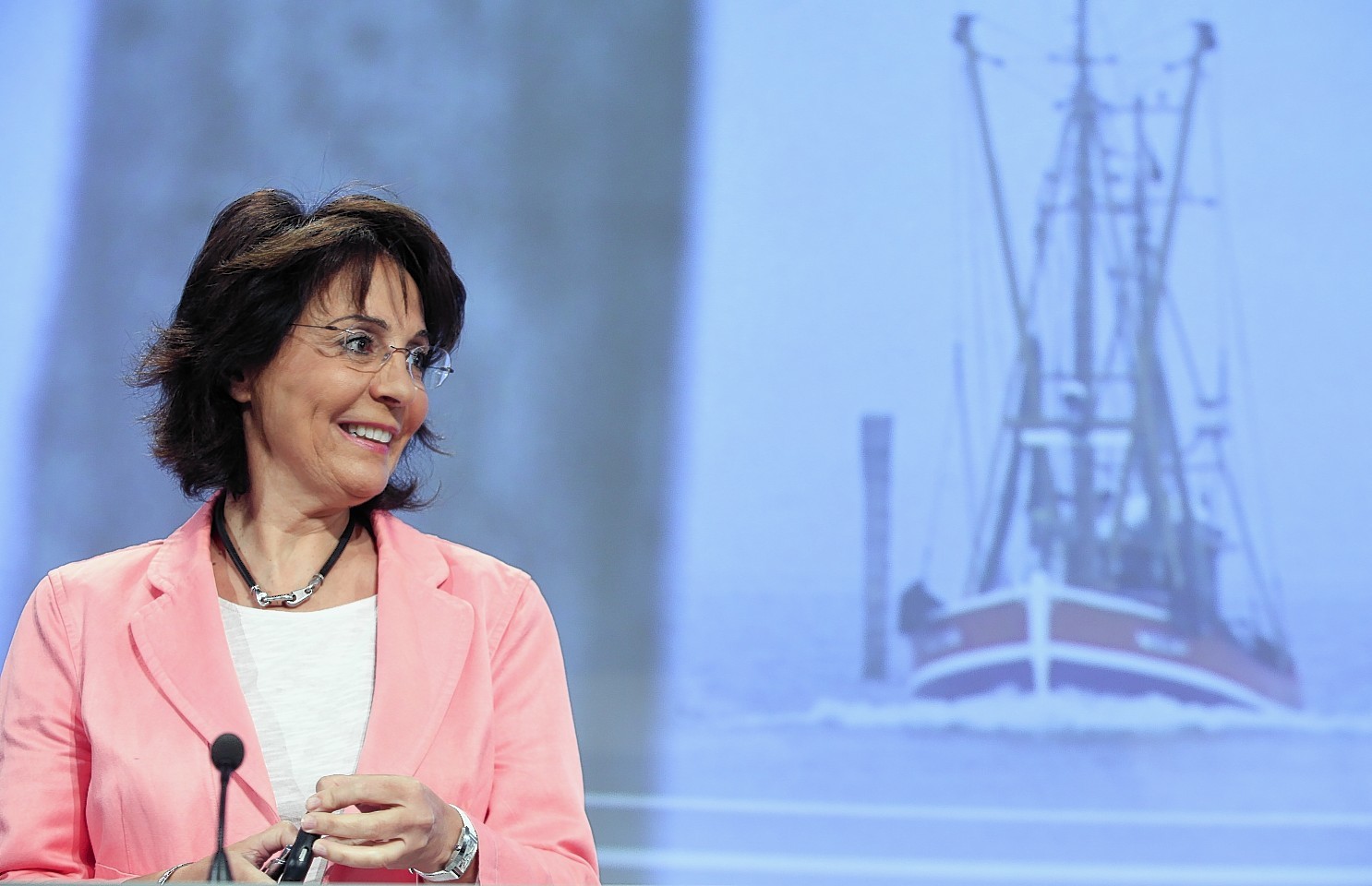 EU Fisheries Commissioner Maria Damanaki is nearing the end of her five years in office. In this month's essay, Keith Findlay delivers an end-of-term report…
Powerful people love to leave a legacy and Maria Damanaki, the European Union's fisheries chief for the past five years, has been giving some thought to hers lately.
She proudly boasts of having overhauled a system which led to far too many fishing boats chasing dwindling stocks of fish, and also points to success in tackling illegal fishing around the world.
Mrs Damanaki has never shied away from a challenge – she once went to prison for her political beliefs – but keeping cynical fishers onside during a reform of the EU-wide policy which governs them has been a battle and a half.
She has also recently come in for some flak for not responding quickly enough to Russia's ban on seafood imports from the EU.
It is fair to say fishing industry chiefs in Scotland will not be sorry to see her go when her term of office ends on October 31.
She is widely seen as having been far too cosy with the environmental lobby, a relationship which led to an obsession to rid Europe of fish discards.
Sure, the wasteful practise of chucking mostly dead fish back in the sea because it cannot be caught under strict catch rules is abhorrent.
But in its rush to please a public fired up by the high-profile Fish Fight campaign, led by celebrity chef Hugh Fearnley Whittingstall, the European Commission and fisheries ministers have foisted a new set of even more complex and possibly unworkable rules on the industry.
Discards are to be phased out between 2015 and 2019, and fishermen will be obliged to land at least 95% of what they catch.
Scottish fishers have complained for years about the nonsense of throwing so much perfectly good fish overboard, but now they worry that plans to implement the new ban are fatally flawed.
They fear the new landings obligation could mean nets getting filled with fish that are in abundance but carry very little quota.
Scottish Fishermen's Federation chief executive Bertie Armstrong pulled no punches about Mrs Damanaki and her legacy.
He said: "In terms of the wellbeing of fishing industries of Europe, she has been the worst commissioner for some considerable time.
"The basis for using that rather dramatic description of her time in office is twofold.
"Firstly, in dealing with the matter of fish discarding as part of the reform of the Common Fisheries Policy (CFP) she seemed unable to see the whole picture.
"Instead, she played a part in the introduction of bad law that may well fail to deal properly with discarding, inflicting instead serious and lasting socioeconomic damage on sectors of the Scottish and other fleets.
"Secondly, there has throughout her tenure been a very damaging dispute with Iceland and then the Faroe islands about their over-catching of mackerel, and also with Faroe over herring.
"In the latter case, she brokered a resolution in which the over-catchers were simply rewarded for their behaviour with excessive amounts of our fish to buy their agreement."
Mr Armstrong said alarm bells started ringing for him around the time of Fearnley-Whittingstall's intervention in the discards debate.
He added: "The Fish Fight campaign was expertly run, maximising a plausible-sounding but wholly superficial message – discarding is bad, so ban it.
"While the problem of fish discarding has been long-lived and intractable, it was Mrs Damanaki's job to recognise that half the problem was regulatory in origin – that was her problem – and that a total ban was unworkable.
"She seemed unable to resist the siren call of being the commissioner who finally cracked the problem.
"History may instead record her as the commissioner who finally cracked significant sectors of the European fishing industry."
Another gripe of Mr Armstrong's is that the EU's fishing chief has let her determination to resolve international disputes "on her watch" get in the way of sensible and fair outcomes.
"Resolution at any cost is unacceptable," he said, adding: "Equally insupportable is the way she went about achieving it – unilateral offers of our fish to the over-catchers, made on opaque visits of diplomacy to the countries concerned.
"As her time in office draws to a close, this is an unenviable set of achievements.
"If that sounds harsh, remember it was her responsibility to introduce only workable law driven by achievable regulatory objectives. She has succeeded in neither.
"Her area of the commission website and her own blog would have you believe otherwise and much is made of her green credentials.
"It will be interesting to see if that leads to follow-on employment with one of the environmental NGOs (non-governmental organisations."
The Scottish Fishermen's Organisation (SFO) has been just as scathing in its monthly newsletters for members.
In the latest, SFO chief executive Iain MacSween said: "Damanaki's legacy as she heads off to find employment with some environmental group is going to be a bitter one for the industry to swallow.
"But at the end of the day it was EU ministers who signed off the discard ban, so they too have to shoulder the responsibility for what will befall the industry."
In a previous edition after a "dopey" deal on mackerel, Mr MacSween said: "Commissar Damanaki has been out and about again telling the world what a great job she is doing.
"She chose the World Oceans Summit in San Francisco to enlighten ingrates such as me who were of the opinion that the European Union fishing industry is in a bit of a mess."
On her portrayal of CFP reform as a global success story, Mr MacSween said: "Perhaps a wee stroll up the high street in some of our coastal communities would lead her to review her conclusions.
"It is unbelievable that the analysis she delivers is so completely at odds with the reality of the situation in most fishing communities around the EU.
"Fleets have been decimated, we rely on imported supplies of fish and the infrastructure that once supported the industry and communities is slowly but surely imploding.
"The view from the top of the ivory tower is fine but she needs to come down here."
Mrs Damanaki has certainly been a very different kind of fisheries commissioner than her predecessor, Maltese politician and diplomat Joe Borg, who regularly visited Scottish ports to speak to skippers.
He was also happy to speak to the media about fishers' most pressing concerns of the day.
By contrast, Mrs Damanaki has kept her distance from this country's fishing industry and the press.
I can recall only one visit she has made to the north-east during her time.
As far as I am aware she has not set foot in Peterhead or Fraserburgh, or indeed any other Scottish ports.
When I tried to quiz her on her only official visit to Aberdeen in October 2010, I was not given the time of day when I pitched up at Ardoe House House Hotel, at nearby Blairs, seeking a face-to-face interview.
I later managed to speak to her by phone, but only after some adviser or other told her it was not really a good idea to pitch up in the north-east of Scotland and not publicly address major concerns troubling the region's fishermen.
She attended a marine science conference during her visit and held a press conference, but refused to take any questions about fishing.
I have reported on every December Fisheries Council, where crucial decisions are made in Brussels about the catch rules for the next 12 months, during her time in office.
My annual requests for an interview on the eve of these negotiations have been rebuffed – or in some cases ignored – every time.
But, on the other hand, she has been more than happy to provide first person contributions to the Press and Journal.
In these, she has shown understanding about the importance of the fishing industry to Scotland and its coastal communities.
What lies ahead for the EU's fisheries commissioner remains to be seen but it is unlikely to be as traumatic as her early adult life back home in Greece.
The mother-of-three was active in the underground student movement opposed to the dictatorship in Greece in the early 1970s and played a leading role in the coordination of its activities.
During the three days of a people's revolt against the dictatorship she became known as the voice of the uprising for her clandestine radio transmissions.
Her notoriety earned her a spell in prison after which, aged just 25, she became Greece's youngest ever MP.
She was also the first woman to be elected vice-president of the Greek parliament.
Mrs Damanaki was president of the Coalition of Left and Progress from 1991 to 1993 and a candidate for the election of Athens' mayor in both 1994 and 1998, while she also led Socialist Party groups on various Greek parliament committees.
Reviewing her time as EU fisheries chief, she said: "What I really take away from my five-year mandate at the European Commission is that change is possible in Europe today.
"It needs time and patience but my own experience with Europe is a success story of self-criticism and self-renewal.
"Change needed to happen in the Common Fisheries Policy. We had been over-fishing for too long.
"Fishing quotas have been set following economic interests for too long. We spent millions to build new, bigger fishing vessels for too long.
"With the (CFP) reform, we are seeing a change in culture. Today, we don't discuss any more if we should go for sustainably fished stocks but when to go for it.
"There is a general consensus that we have to fish less if we want to continue fishing. This will, in the long run, benefit everybody. It will increase both the fish stocks and the income of our fishermen.
"If we achieve our goal to have all stocks fished sustainably by 2020, we are talking about 15million more tonnes of fish in the sea.
"This could mean 1.8billion euros (£1.4billion) more revenues in the catching sector alone.
"Better labelling and fresh, higher quality products will add to that.
"These radical changes were only possible because we got everyone around the table; governments, parliaments, civil society, industry local and regional actors.
"And also because we gave powers back to those who know their craft best, the stakeholders and regional actors of fisheries policy – the ones who are on the ground.
"I hope these will be the founding stones of a prosperous fisheries sector and to make it work,we need to support our fishermen."