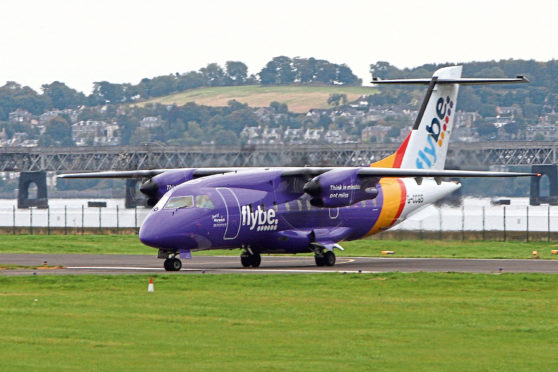 Flybe suffered a turbulent day in the City after reassuring the market over its ability to keep flying from airports including Aberdeen and Inverness.
The regional airline is on the brink of a takeover by a consortium – led by Virgin Atlantic and Stobart Group – pumping millions of pounds into the business to keep it from going bust.
Flybe said yesterday it had already received the first £10 million in crucial funding as part of a restructured takeover offer .
It also said it continued to receive payments from its credit card acquirers – the financial institutions processing credit or debit card payments on its behalf.
But there is unrest among investors over the 1p per share sale to the Connect Airways consortium.
Flybe's biggest investor – London-based asset manager Hosking Partners – is reportedly considering legal action, having accused the company's directors of breaching their obligations to shareholders.
It is understood Hosking Partners wrote to Flybe's directors expressing concerns that the carrier had allowed a false market to develop by failing to notify the City of its financial position quickly enough – a letter that was also sent to regulators.
Flybe's shares have taken a pummelling since news of the takeover emerged earlier this month.
The stock fell sharply again yesterday, down by more than 50% at one point as Flybe saw another few million pounds wiped from its market value.
There was a recovery by market close but it was not enough to offset the damage, with the shares ending the session 38% weaker at 4p.
Flybe, which put itself up for sale in November after warning over profits, is to be combined with Stobart Air in a joint venture.
Virgin and Stobart will each own 30% of the new business, while a third consortium partner, Cyrus Capital Partners, will have 40%.
The combination of Flybe and Stobart Air and a "deep partnership" with Virgin will see flights currently operated by Flybe taking off under the Virgin Atlantic brand.
Under a rescue plan unveiled by Flybe last week, the consortium partners will pay £2.8m for the business instead of the £2.2m that was previously agreed.
The new package also included £10m of immediate funding – from a revised bridging loan worth a total of £20m – to help the airline survive until the slated takeover completion date of February 22.
Flybe's owners-in-waiting have pledged a further £80m of funding to support their growth plans for the carrier, whose route network includes a raft of flights from Aberdeen and Inverness.
Trade unions have already raised concerns over the impact of Flybe's sale on the carrier's 2,300 employees.
Exeter-based Flybe has also agreed with Vueling Airlines – a subsidiary of British Airways owner International Airlines Group – to sell its slots at London Gatwick Airport for £4.5m.
This cash will be paid in two tranches, one due in the next few days for slots to be used this summer, and the second in June for slots to be used during winter.