Youngsters from a north-east school sparked an unusual "chain" of events to mark the final week of Friends of Anchor's 20for20 voyage.
Pupils from Ferryhill Primary School were winners of the charity's school design competition, and to celebrate their achievement, they arrived at Duthie Park to create one of the longest human chains the park has seen in recent times.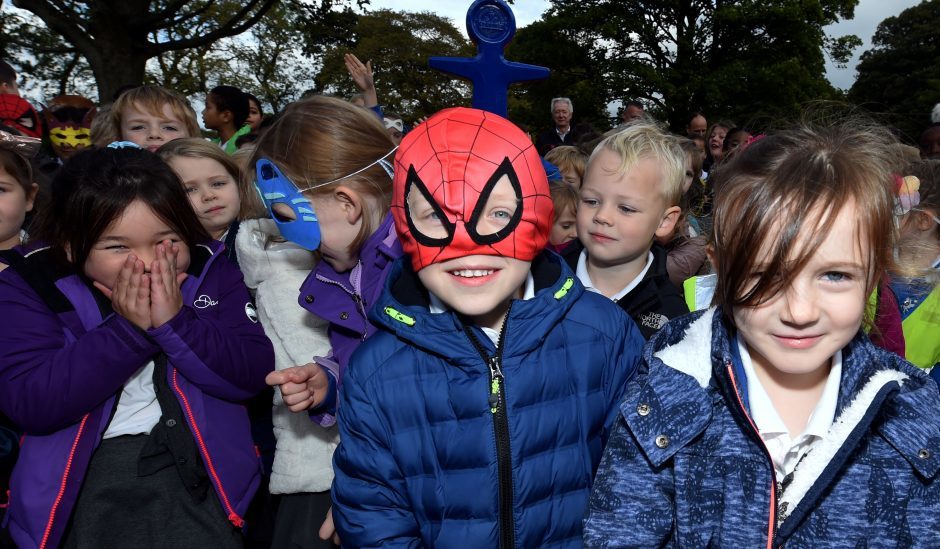 With some adorned in their personally-created superhero masks, more than 150 children took part before transforming the chain into the shape of an anchor.
The formations were captured on aerial photography by Goshawk, who was also responsible for creating stunning 'virtual voyage' footage for all the mainland anchors whilst out on location.
To mark the charity's 20th anniversary, 20 anchors were individually designed and decorated and placed in various north-east locations in July, with people challenged to visit them all.
The organisation also launched its Dream Big campaign this year – pledging £1m to the University of Aberdeen's ambitious £4.5m project to attract and recruit a world-class oncology research team to the north-east of Scotland.
Nicola Smith, from Ferryhill Primary, said: "The pupils returned from the summer break with great stories of having visited many anchors throughout the north-east.
"Many talked about which ones they enjoyed and, of course, our own one was a huge favourite. They were so enthusiastic that we wanted to come up with another idea to get involved with the campaign before it came to an end this week.
"We thought we could impress with our strong community links by literally forming a large human chain. We wanted to attempt to form an anchor shape to represent the importance of coming together for a greater cause."
Kirsten Horne, campaign officer for the charity, added: "The Anchor Voyage has taken so many people on their own personal voyage.
"We have been overwhelmed with the many messages of support and encouragement [received] throughout the campaign period.
"And we look forward to welcoming the public to see all 20 anchors together when they are showcased at Marischal Quad during the October holidays."