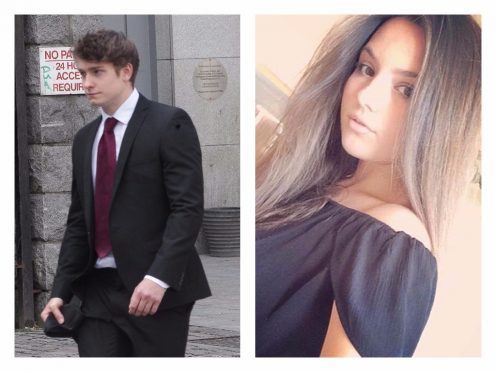 The mother of a teenage student, who committed suicide after being abused by her boyfriend, yesterday told of her disgust after he partied at a ball attended by her friends.
Angus Milligan, 21, was convicted in July this year of verbally and physically abusing Emily Drouet, 18, before she took her own life while studying at Aberdeen University in March last year.
He was later expelled by the university, but was among revellers at the St Andrews Ball, an annual gathering for students in the Granite City, at the Ardoe House Hotel on Thursday night.
The former psychology student posed for photographs at the black-tie occasion and seemed relaxed, while forming part of a table of eight men, surrounded by seven tables of women.
Students in tears as man who abused his girlfriend goes to ball
Fiona Drouet said yesterday she was appalled and disgusted that Milligan had been permitted to attend the event. She told the Press and Journal: "It is grossly insensitive that a student, who was excluded by the university for violence against a woman, should be welcomed back in a social setting where he was seen laughing and joking with his mates as if nothing had happened."
And, according to Mrs Drouet, his attendance caused enormous upset to many of Emily's friends who were at the ball.
She added: "Some of them approached people at Milligan's table to reproach them for continuing to support him. His friends appeared to be unapologetic and even defended his right to be there which, frankly, is astonishing."
Milligan admitted sending Miss Drouet "grossly offensive" and "menacing" messages on March 3 and 4 last year, and grabbing her by the neck, choking her, pushing her against a desk and slapping her on March 10. He was sentenced to 180 hours of community service when he appeared at Aberdeen Sheriff Court in July. He was also placed under supervision for 12 months: a restriction which is in place until next July.
Aberdeen University officials insisted yesterday they had no connection to Thursday's function or any knowledge of who might be attending it.
Tragic Emily's parents launch campaign to make students safer
A spokesman said: "The university and the students' association had no role in the organisation of last night's event. However, the wellbeing of our students is our number one priority, and we are liaising with the organisers to offer all available support to anyone who was affected."
There was immediate political condemnation of Milligan's attendance at the function.
Aberdeenshire SNP MSP, Gillian Martin, said: "The organisers of the ball have shown a singular lack of judgment in allowing Angus Milligan to be a guest in the company of other students who are still trying to deal with the aftermath of Emily's tragic death."
The organisers of the event issued an apology yesterday. The St Andrews Ball committee stated: "We would like to sincerely apologise to those whose evenings were affected by this. Over 400 people attend this charity ball every year. It is impossible to run a background check of every person on the list. We are extremely sorry that this ball has caused some guests to feel distressed."