Crowds flocked to the launch of Aberdeen's Winter Festival in the city centre last night.
As the bright lights, funfair rides, open-air ice rink and Christmas food and drink stands were bustling, the city's first festive community market also begun.
It has been launched to kick-start Christmas gift-buying and support the growth of enterprise in the region.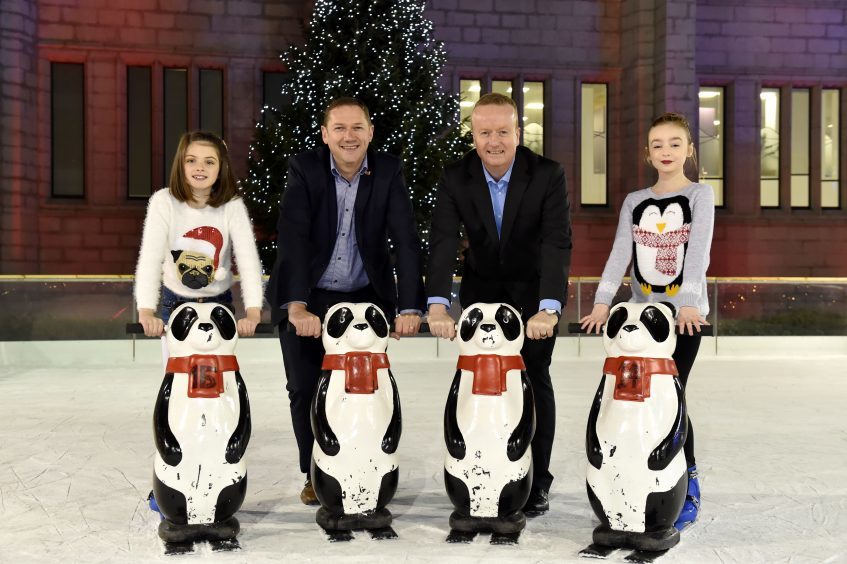 The market will run until tomorrow evening in the Marischal College courtyard.
In the buildup to Christmas, there will be a range of different markets to attract the public to return.
The Fine Christmas Food and Drink Market runs from Thursday 23 to Sunday 26 November, featuring some of the tastiest treats the north-east has to offer. Then the Haan Christmas Design Market runs for the final three weekends, showcasing high-quality craft items.
As well as traditional festive gifts and food, there will be 17 stands run by young businessmen and women selling mosaics and other craft items, skincare products, a range of teas, bridal items and children's toys.
Schools in the north-east will also be selling unique products they've worked on, including Peterhead Academy's memory game and colouring book endorsed by Alzheimer's UK, Hazlehead Academy's decorated cactus plants and Christmas hampers designed by Robert Gordon College.
Young Enterprise, Elevator, Business Gateway and the Prince's Trust teamed up with Aberdeen Inspired to put on the market.
One entrepreneur is city centre-based Arizona Brodie, a former top Brazilian jiu jitsu competitor who was on her way to becoming one of the best in the world until injury struck. Her company Arizona Botaniq sells anti-chlorine moisturiser which prevents skin irritation for people when they go swimming.
She said: "I'm looking forward to it. It should be a busy weekend. It's a great opportunity for everyone here to meet lots of people and tell them about the products."
Adrian Watson, chief executive of Aberdeen Inspired, said: "One of our primary aims is to increase footfall within the city centre and we are sure Aberdeen Christmas Village and the markets at Marischal College will do exactly that, while also bringing in benefits to local restaurants, businesses and shops as people enjoy everything our great city has to offer.
"We've listened to feedback and one of the main things we wanted to do was boost local enterprise and we think the community market will give our young entrepreneurs and new businesses a taste of what it's all about. Hopefully we'll see them again in years to come and they'll go onto bigger and better things too."