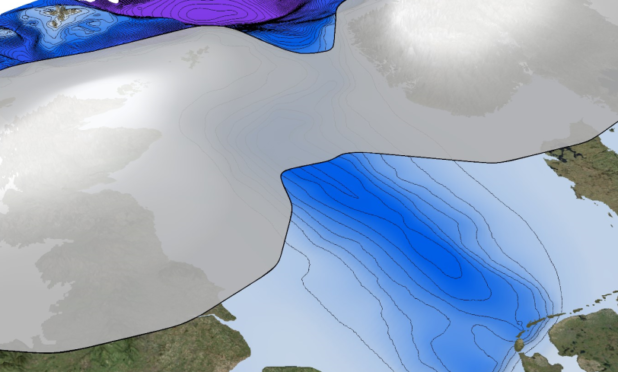 Researchers in the north-east have discovered that their historical knowledge of Scotland's big freezes was actually just the tip of the iceberg.
A team of Aberdeen University geoscientists has made a significant breakthrough over the understanding of a giant ice sheet which covered Scotland and much of the North Sea 2.5 million years ago.
At the time, the body of water was deeper and narrower, akin to a large fjord, and generated icebergs nearly 1,000ft high.
Due to seasonal changes in temperature, the ice sheet repeatedly merged and retreated with another which was covering Scandinavia, filling and emptying the channel.
Until now the scientific consensus was that deep freezing on this scale first happened around 1.1 million years ago.
But by using rare samples and seismic data, the north-east researchers have discovered that it actually began a further 1.4 million years earlier.
Brice Rae from Aberdeen University, who led the project, said it has "completely changed" scientists' understanding of the topic.
"We obtained sediment core samples from beneath the North Sea at a depth where they are rarely obtained and combined this with a range of geophysical datasets that were being worked on at the University of Manchester," he said.
"Coalescence of the British ice sheet and ice from Scandinavia, which we show occurred at about 1.9 million years ago, wasn't thought to have happened until about 780,000 years ago.
"Our findings completely change our understanding of how far back in time large ice sheets covered the British Isles and merged with ice from Scandinavia."
The geoscientists were aided by staff from universities in Manchester, Sheffield and Belfast, and were also supported by firms including Apache North Sea and Maersk.
Their findings have been published in the latest edition of the Science Advances journal.
Professor Mads Huuse from Manchester University said: "Through this method we could investigate, in unprecedented detail, the ancient environments preserved up to a kilometre below the modern seafloor.
"It provided evidence for the existence of a British ice sheet in the middle of the North Sea, far earlier than the current consensus."