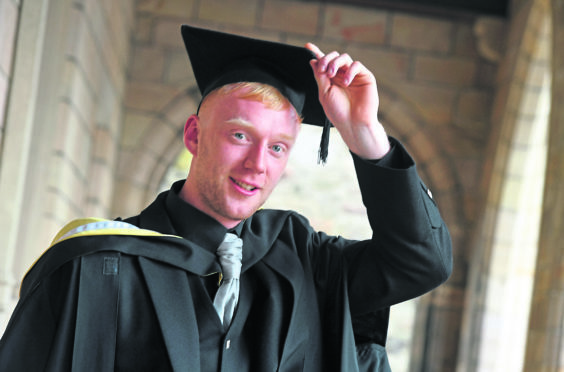 Kirk Craigen yesterday described graduating from Aberdeen University as a "big relief".
The 22-year-old collected his mechanical engineering degree at yesterday's afternoon ceremony.
Mr Craigen, from Inverness, certainly kept busy during his five years of study, joining both the boxing and weight-lifting societies.
"It was a challenge," he admitted. "I travelled around Scotland to different tournaments and it could be hard juggling sport with my workload and job.
"But it meant I met a lot of people and had a really good social outcome from that."
The graduate can now barely remember what it was like moving from the Highlands to the Granite City.
He said: "I remember Freshers week being a lot of fun. First year eased me into the course before it started to get trickier. But even then I always knew I was comfortable in the course.
"Graduation was always the goal so it was a big relief to make it here today. This year was the final stretch and it was great to know the hard work had paid off."
Mr Craigen will enjoy well-deserved time off or the next few weeks before focusing on his job hunt.