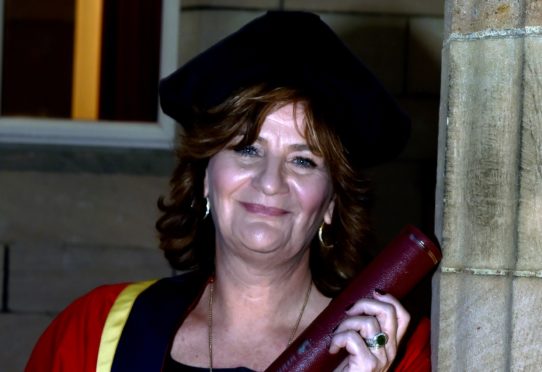 Aberdeen University students were encouraged to "make a difference in the world" as the institution staged its winter graduation yesterday.
Notable moments in history on November 20 include New Jersey ratifying the bill of rights and UN Universal Children's' Day.
And the graduating class of 2019 were assured the significance of the date would continue through their ceremony and achievements.
Midway through the morning ceremony, fourth year music student Peter MacPherson performed a heartfelt song.
He sang the lines "here's to you and our time together" in a fitting tribute to friends made along the university journey.
A burst of applause filled the room as the final student graduated and Professor Richard Wells took the stage.
"It is tradition to bring to the podium someone wise and inspirational," he began.
"But due to financial constraints and budget cuts, a grumpy old chemist from Yorkshire stands before you."
He encouraged the graduating class to make a difference in the world – and he wasn't the only person to do so.
Colette Cohen, chief executive of the Oil & Gas Technology Centre(OGTC), received an honorary degree in the afternoon.
She was appointed to the role in 2016 and under her leadership, OGTC will play a key role in the pathway towards a zero-carbon energy sector.
Aberdeen University is partnered with OGTC on The National Decommissioning Centre.
Ms Cohen said:"It feels really humbling but also also feels like recognition for the collaboration between Aberdeen university and OGTC.
"Seeing the excitement of the students, it makes you remember how important and life changing graduating can be.
"My key piece of advice would be to be resilient. There will be ups and downs. Embrace it.
"The journey forward won't be a straight road, but you learn the most in your discomfort zone.
"True growth and true learning comes from challenging yourself."
She advised the students to not suffer fake truths and surround themselves with honest friends and relationships.
The honorary graduate also congratulated the students and said they all looked "fabulous" on what she was sure was a "very tight budget".
Her parting advice was that of Winnie the Pooh: "There is something you must always remember.
"You are braver than you believe, stronger than you seem, and smarter than you think."