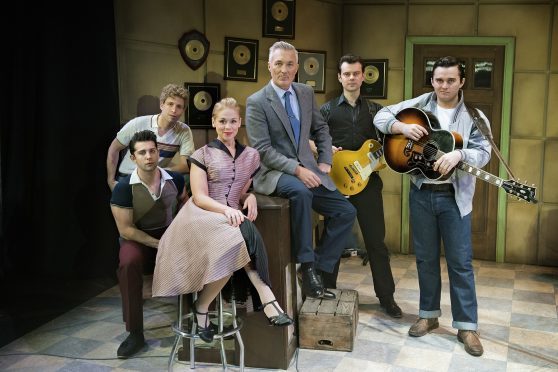 His was meant to be purely a straight acting role – but former Spandau Ballet singer and film star Martin Kemp couldn't help but join in the singing at the end of the feel-good show, Million Dollar Quartet, currently running at Eden Court Theatre, Inverness.
Martin stars as legendary record producer,Sam Phillips, credited as being the father of rock 'n'roll.
The action in this non-stop musical takes place in Phillips' Sun Records studio in Memphis on the night of December 4, 1956, when four musicians, all at a crossroads in their lives, come together for a few hours and take part in a jam session.
Opening with a cracking version of Blue Suede Shoes featuring Carl Perkins (Matt Wycliffe), Elvis Presley (Rhys Whitfield), Johnny Cash ( Robbie Durham) and Jerry Lee Lewis (Martin Kaye), and supported by an excellent double bass player and drummer, the band rocked Eden Court to the rafters.
In between more than 20 classic rock 'n' roll numbers, Phillips tells the story of how he met each musician, nurtured them to stardom, and reveals where their relationship is at this moment in time.
Carl Perkins is looking for another big hit; Johnny Cash is scared to tell Phillips he's not going to renew their contract, while Elvis is working with the Colonel and feeling like he's lost control so is desperate to persuade Phillips to come and work with him at a different record company.
While these three musicians are well on their way to superstardom, Jerry Lee Lewis can only dream about it and is desperate for Phillips to sign him so goes out of his way to try and impress him.
Martin Kaye as Jerry Lee Lewis had some of the funniest lines, but also stole the show delivering an explosive, high-energy performance as the over-confident but hugely talented pianist.
The score is packed with much loved and familiar songs. Stand-out moments for me included Jerry Lee's Great Balls of Fire; Matchbox from Carl Perkins; Folsom Prison Blues from Jonny Cash and a wonderful acoustic gospel version of Peace in the Valley sung by Elvis and backed by the others.
Taking a smaller, but nevertheless important role, is Katie Ray as singer Dyanne, one time girlfriend of Elvis. She delivered a sizzling version of the hit, Fever, as well as a rocking version of I Hear You Knocking.
With enough of a plot to keep you hooked and loads of tunes to sing along and dance to, this is much more than a 'jukebox' musical and a must see show for anyone who wants to feel like they've witnessed an important part of musical history and just attended a great big, fun party.
Million Dollar Quartet is on at Eden Court Theatre until Saturday, October 21.