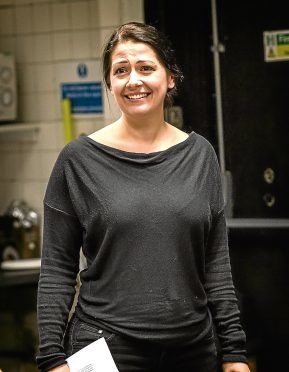 Aberdeen is in for a treat when stars from the west end take to the stage at Aberdeen Arts Centre this week.
Stephen Sondheim's Company is running for a limited time and is taking some pretty big stage stars to the Granite City.
The beautiful songs will be brought to life by cast members who have starred in the likes of Wicked, Chicago, Phantom of the Opera, Fiddler on the Roof and Ghost.
With music and lyrics from composer Stephen Sondheim and a book by George Furth, Company explores modern relationships.
The amazing cast will be taking on this trailblazing musical which follows Bobby during his 35th birthday party when all his married friends start asking the same question – will he ever give up his bachelor lifestyle and settle down?
Directed by Aberdeen-born Derek Anderson, Company will play a limited season from February 1 to 10.
Originally from Midlothian, cast member Ashleigh Gray trained at Guildford School of Acting and was selected for the role of Amy in this stunning musical. It has been a busy few weeks for the actress, who jumped into rehearsals straight after the high of panto season.
Along with Oliver Savile, Anita Louise Combe and Simbe Akande, she will be in the final moments of preparation before the musical opens tonight.
Has it been an intense rehearsal schedule?
We are currently into week three of rehearsals and the show is getting very close. It is so exciting. There are quite a few Scottish actors but we have been rehearsing in a studio in the south-east of London. Once we get to Aberdeen Arts Centre and on the stage, I think the show will take on a whole new meaning. The first week was spent learning the music. Sondheim is known for his harmonies and melodies which I had to wrap my head around, including the song Not Getting Married Today.
How did you get the part?
I had worked with the producer David Adkin last year. He introduced me to the director Derek Anderson who has an eye for Sondheim and such a passion. I fell in love with the creative team.
Were you familiar with the musical? I actually did Company while at college. One term was a bit of a free for all and we collectively decided to do Company and loved it. Every part has its own journey; they are all principle characters with no dud parts.
Were you able to connect with your character Amy?
Actually, yes. She is frantic and crazy but Sondheim is a humanist. She may be crazy but she is just a human being and her frantic over-the-top actions could just be nerves. As an actor I am able to understand what she is going through; she is getting married and I have just gotten engaged. And the number which Amy sings is the most bonkers song.
What can we expect visually?
We saw the set model box at the beginning of rehearsals. I think because the story is so complex the set is going to be minimal and will help bring each character's story to life.
It must have been quite challenging jumping straight from the cheerfulness of panto into something a bit more serious?
There are a few of us who have come into this production straight from panto. Lisa Ann Wood was in the HMT panto in Aberdeen. I think it was a bit of a shock to the system. I slept a lot at the beginning! But the energy in this show is quite high and there is quite a lot of comedy.
Is there a part which you would love to play during your stage career?
I'm quite fortunate that I have already played my dream role of Elphaba. I did Wicked for eight years on and off and spent about a month in 2015 in Aberdeen, so I have ticked that one off. Maybe something on the new musical side as I like workshopping new pieces.
Why should people come and see Company this week?
To be taken on a roller coaster of people's lives, see yourself in them and enjoy seeing into the lives of these people.
Company opens at Aberdeen Arts Centre tonight, Thursday February 1, and runs until February 10.