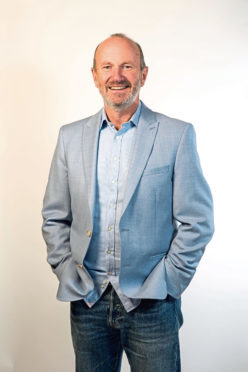 In the same year President Reagan made a controversial visit to Britain, popular soap Crossroads aired for the last time and the first Red Nose Day took place, in the MacAulay household, big changes were also being made.
Fred MacAulay, aged 31, took a look at his life and decided to do something radically different and stop working as a financial account and company secretary.
He entered a competition entitled So you Think You're Funny at Glasgow's Mayfest and with scarcely five minutes of his own material walked on stage as a stand-up comedian for the very first time.
"It's a scary thought to think that was 30 years ago," said Fred, who is undertaking a mini-tour of Scotland which will take in locations such as Inverness, Shetland and Orkney.
"The main difference between then and now is that when I started I had two very small children. Now I have three very big adults – time stands still for no man – but invariably I have a smile on my face because it's been a great career and a great life. I have no regrets about giving up accountancy and one of the greatest luxuries in my life is that I now have an accountant so just pass everything to them to deal with, which is just wonderful."
Within a couple of years of taking that first tentative step into the world of showbiz, Fred, who was born in Perth, was MC'ing The Comedy Store in London.
As a result of that success he swapped cheques for chuckles and became a full-time comedian, regular radio host, TV show panellist/host and writer.
"It's remarkable really but I think more people will have seen me in a dinner suit than on stage as corporate events have been the mainstay of my career for years, even when I was on the radio," said Fred.
"A lot of comedians get the fear when it comes to corporate events and don't like doing them, but because I had a background in business I was never scared of facing 500 men in dickie bows. In fact, I always enjoyed them."
Until fairly recently that is …
"I had a bit of a shocker not so long ago, doing a corporate gig at the National Railway Museum in York, which is a phenomenal space but not ideal for stand-up.
"Lets just say there was a free bar and the audience weren't really engaging with me until a fat Glaswegian heckled me half-way through my act to ask me if there was cheese coming.
"No one has ever heckled me with, 'is there any cheese?'
"I said, judging by the shape of you, the last thing you're needing is more cheese!"
The quip not only won over the audience but made Fred quickly decide whether he could outrun the heckler if necessary – "if it came to it, I could," said Fred.
To mark his 30th anniversary of his initiation into the world of stand-up, Fred is embarking on a tour of some of his favourite venues around Scotland.
"I'll go anywhere that'll have me," said Fred.
"This will be the third year running I've done a tour at this time of year.
"I used to do my tours in the autumn around England, but I'll be honest … you soon tire of dark autumn evenings on the road to places that even the locals have never heard of!
"This tour is like a summer holiday with a wee bit of work thrown in. And yes, the golf clubs will be in the back of the car."
Some who have seen Fred play golf might say that's the best place for them …
Fred MacAulay is at the Universal Hall, FIndhorn on Saturday, June 2 (www.universalhall.co.uk); Eden Court Theatre, Inverness on Sunday, June 3 (www.eden-court.co.uk); Mareel Shetland on Friday, June 15 (www.shetlandarts.org/venues/mareel) and The Orkney Theatre, Orkney on Friday, July 13 (www.orkneytheatre.co.uk).