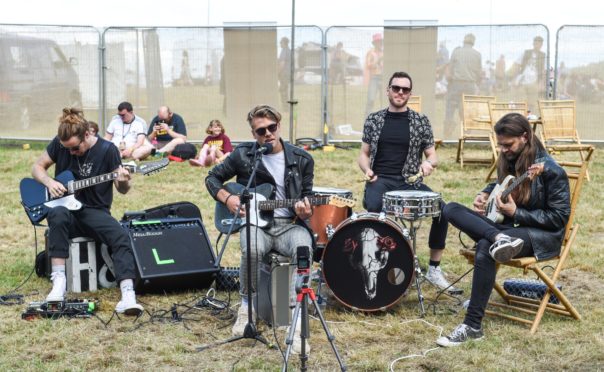 Almost fifteen years after the inception of the first Loopallu, the festival is ready for one final Loop.
Every year music fans from across the country flock to the Highlands for the festival that was quickly dubbed the 'best in the west'.
It kicked off in 2005 with American rockers Hayseed Dixie headlining. The blistering start to the festival meant that it soon became a must for music lovers.
Over the years acts including the Buzzcocks, Mumford & Sons and the Stranglers have rocked the tiny fishing village, drawing almost double the number of residents to the area.
And for many artists who have graced the stage over the years, the final Loop will be a fond and bittersweet farewell.
Hunter and the Bear lead singer Will Irvine said: "Loopallu was the first festival I ever went to when I was little and it blew my tiny mind.
"To be headlining the last ever one is a total honour and we can't wait to blow the roof off! It's going to be a belter."
Celtic pop rockers Tide Lines played the festival for the first time two years ago as their debut album was released.
Lead singer Robert Robertson said: "It's a great privilege to play at the last ever Loopallu and, although it will be a night of mixed emotions for lots of people, we're really looking forward to playing to the wild Ullapool crowd again.
"We played the festival two years ago and have some great memories so it's lovely to be involved in the festival's send off."
Folk rocker Davy Cowan has played the festival almost every year, and has even gotten son Sam, 16, involved over the years.
He said: "I played there with many different line ups and at different venues over the years and we just loved the whole Loopallu vibe.
"I think my lasting memory of Loopallu will be the first year that myself and my old friend Hosie played in the bar tent in between the change overs from the bands on the main stage.
"It was a total riot, the crack was so good people were forgetting to go back through to the main stage which resulted in us having to close our stage down early to get the punters back into the main arena."
Cowan has performed many different sets and bands through the years and despite his popularity across the national music scene, the festival holds a special place in his heart.
He added: "My son Sam also played his first gig there too when he was only 12 and this will be his 4th year playing drums with me at the festival.
"I don't think there will be a dry eye in the tent when the final curtain comes down on Loop on Saturday night. I, for one, will miss this annual Pilgrimage to the Little Fest in the West."