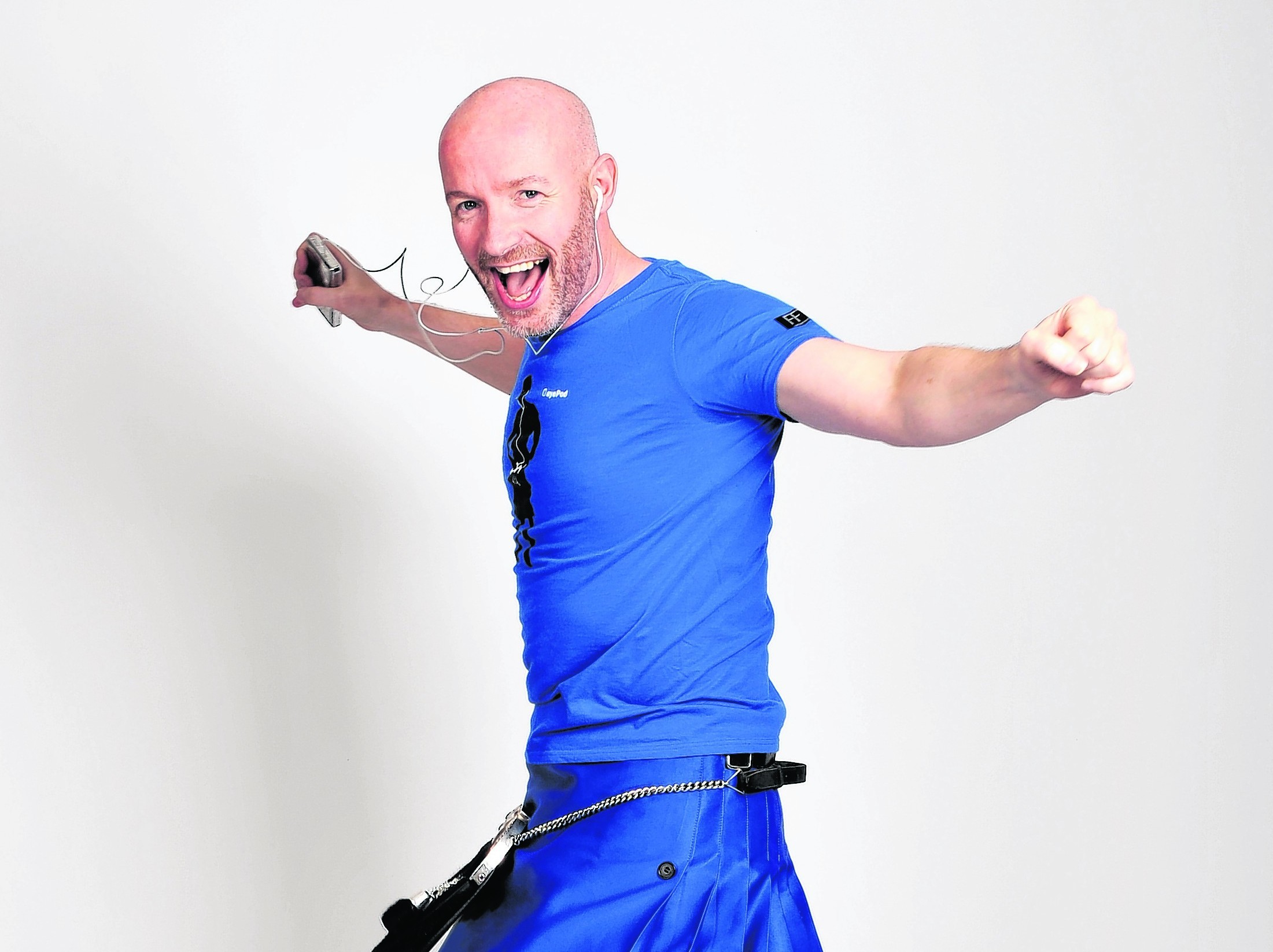 Ahead of his trip up north, bekilted comedian Craig Hill discusses with Andrew Youngson where he finds
comedy inspiration
YOU WERE COMPERING FOR THE BIG INVERNESS HOGMANAY BASH A FEW WEEKS BACK. HOW WAS IT?
I was so pleased to do it. It was my fourth time, and I think this was the busiest one they had had. What's exciting for me each time is finding out about Scottish traditional music, and how good it is. I think a lot of tourists going to the Edinburgh Hogmanay would love the Inverness one, because it's such a celebration of Scottish music.
WHAT CAN PEOPLE EXPECT AT YOUR CURRENT SHOW?
Well, a lot of people expect me to do singing and dancing, so there's some of that. For example, someone asked me to do a version of Adele's Someone Like You – I've done a wee parody of that.
A lot of the show is just what happens on stage on the night, spontaneously with the audience. Most of it is about anecdotes from your travels, because most people do want to know what you've been up to since they last saw you. And as a comedian, you just have those eyes on life – you're a comedian because you look at life in that way.
SO YOU FIND INSPIRATION EVERYWHERE FOR YOUR MATERIAL?
Yeah, I record notes on my iPhone throughout the year, and then write it all down. For example, the other day, I was in a cafe with a friend and I told her a story. She laughed, and it was only then that I realised it was funny. But then I asked: "How did I tell you that story again?" And that's the most frustrating thing – when you say something naturally without thinking and then try to go back and word it exactly the same to capture the moment.
So, I think, as a comedian, it's really important to make sure you're still living a normal life, and not just always doing comedy – to still be around all the things that make you laugh.
DO YOU NOTICE DIFFERENCES BETWEEN AUDIENCES IN DIFFERENT GEOGRAPHICAL PLACES?
I don't notice that much, really. I think that language is probably the main thing. Patter and accents – I'm quite fascinated by that. In Inverness, for example, there are words they say that I've never heard before. I love playing with that if I can, because people love it when you can localise your act. But I love language differences. So in Stornoway, I'm probably going to have a field day.
YOU MUST GET ASKED THIS ALL THE TIME, BUT HOW MANY KILTS DO YOU ACTUALLY OWN?
Actually not that many people ask me that. You would be surprised; I've just got 12 of them.
THAT'S ALL? I THOUGHT YOU WOULD HAVE MORE
I know. I like to try to get a new one every year. Most of them are from 21st Century Kilt in Edinburgh, but one is from when a woman in Greenock heckled me. She said: "I could get you a kilt for 50 quid. There's a shop closing doon the morra. You should go get it; it's red PVC; it would suit you." So I did. (Laughs)
Craig Hill will be at the Lemon Tree, Aberdeen,on Friday, January 30 (www.aberdeenperforming arts.com), Eden Court, Inverness, on Saturday, February 14 (www.eden-court.co.uk), and An Lanntair, Stornoway, on Friday, February 20 (www.lanntair.com).