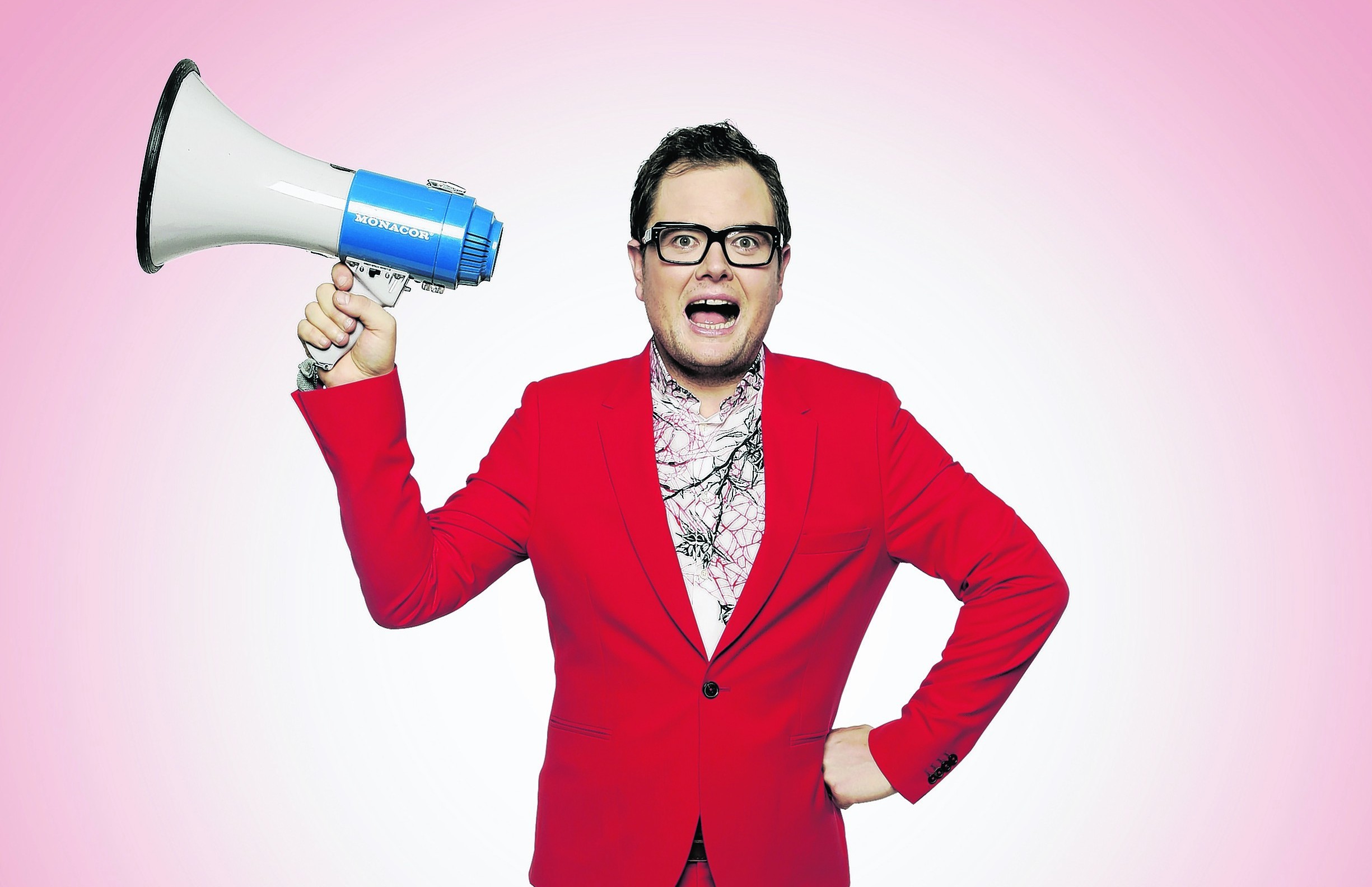 Brian Donaldson speaks to chatty man Alan Carr as he prepares to bring his Yap, Yap, Yap! tour to the Granite City
When some acts reach a certain level in the stand-up comedy game, there are few options left but to downsize.
Playing the vast arenas of the nation might be a sign of your elevated status, but, creatively, can they really be as rewarding as eyeballing your crowd who, in turn, can only view their evening's entertainer by looking at a slightly pixelated version of them on a big screen?
Alan Carr's undoubted skills as a comic and success as the long-running host of Channel 4's Chatty Man mean that his live shows sell out in quickfast time. But for his Yap, Yap, Yap! tour, the Northampton-born funnyman is sidestepping the enormo-domes for venues such as HM Theatre in Aberdeen.
"Those Victorians knew what they were doing when they made these theatres," he said.
"There's not a bad seat in the house, and the acoustics are always amazing. I did the arenas last time for Spexy Beast, as it felt like a scratch I needed to itch; you go on stage and 12,000 people are cheering you on, it's such an ego boost. But as a comedy experience, I didn't find it fascinating. I could have done an arena tour again in two months and been seen by everyone who needed to see me. But this is a labour of love, as I've gone for a much longer tour."
As a result of the slightly more intimate auditoriums he's performing in this time around, he's aiming for Yap, Yap, Yap! to be a little more personal, with aspects of his own relationship getting an airing.
"You make one reference to a woman with a hideous scarf in row A, and you've got 11,999 people going: 'Who's he talking about?' You don't want to lose that kind of room. For the Spexy Beast tour, I didn't feel that I could be that personal. Again, because of the arena aspect, you can't really open your heart, so that show was just jokes and themes. But I thought I could wear my heart on the sleeve this time and talk about more personal things."
Carr dubs stand-up as the "purest art form you can get" and having earned his stripes on the circuit since he debuted back in 2001, his appeal has broadened out to TV audiences with his chat show. He has racked up more than 100 episodes of Chatty Man since it first appeared in 2009, featuring such illustrious superstars as Rihanna, Justin Bieber and Britney Spears, but Carr is well aware that the shelf-life of a small-screen presenter is not indefinite. This is why he is so keen to maintain his reputation as a working stand-up.
"TV doesn't last forever and I didn't want the moment to come when Channel 4 says thanks but no thanks, and I have to then end up in the jungle eating kangaroo bits. And I don't want to be one of those comedians who come back after being away for 10 to 15 years, where you think 'wait a minute, you didn't want to do stand-up when you were on the telly'. Also, there is the politics of a chat show and the guest bookings, so it's just nice to get on stage with a microphone and do it."
While Carr admits he might not have the biggest range in the world to become a serious actor, his movie career slipped up a gear earlier this year with a role in the animated SpongeBob SquarePants movie. In which he played "Seagull No. 1". So, what kind of research did he undertake for such a challenging part?
"I hung around a lot of skips and started attacking pensioners for their chips. I think someone heard my voice and thought 'that has seagull written all over it'. I was a bit naïve, thinking I'd be whisked off to Hollywood to meet Antonio Banderas, but instead I was sitting in a booth in a Soho basement with a director saying 'more flappy please. More squawky!'
"I would like to do more if the chance came up, but Scorsese hasn't been in touch yet."
You can catch Alan Carr at HM Theatre, Aberdeen, from Wednesday, August 12, until Saturday, August 15. Tickets are still available by calling 01224 641122 or visiting www.aberdeenperformingarts.com