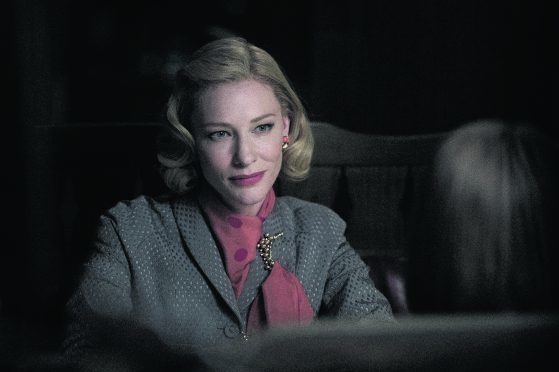 CAROL (15)
5 stars
Love tears good people apart in Todd Haynes's masterful period drama based on the novel The Price of Salt, by Patricia Highsmith.
Adapted elegantly by Phyllis Nagy, Carol charts an unlikely romance between a shop girl and a glamorous housewife against the backdrop of early 1950s New York.
The impeccable style of the era conceals a maelstrom of messy, raw emotion, which overflows in the film's heartbreaking second act as forbidden lovers discover the terrible cost of their liaisons.
In a year blessed with extraordinary performances from actresses, Haynes's picture boasts the mesmerising on-screen pairing of Rooney Mara and Cate Blanchett as independent women from opposite sides of the social divide, who seek refuge in each other's arms.
They are both exquisite, exposing the chinks in their characters' brittle armour as giddiness turns to despair in the cold light of day.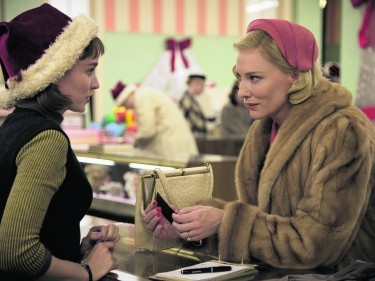 Every line of dialogue is beautifully tailored, complemented by gorgeous costumes and production design that capture the restrictive social mores of a time when every conversation was conducted beneath gently entwining tendrils of smoke.
"Just when you think it can't get any worse, you run out of cigarettes," jokes the title character during one tense exchange.
Mara plays shrinking violet Therese Belivet, who works in the toy section of Frankenberg's department store.
She has an adoring boyfriend, Richard (Jake Lacy), but her humdrum life lacks excitement until Carol Aird (Blanchett) sashays into the store looking for a Christmas present.
The two women exchange pleasantries and Carol orders an expensive train set.
She leaves, forgetting her pair of black leather gloves.
Therese kindly returns the items and Carol reciprocates with an offer of lunch.
Conversation is initially stilted, underscored with an unspoken erotic charge, and Carol inquires about Therese's relationship with Richard.
"Would you like to marry him?" she asks.
"I barely know what to order for lunch," jokes Therese.
The bond between the women deepens, kindling a passionate affair, which forces Carol's estranged husband, Harge (Kyle Chandler), to seek sole custody of their daughter, Rindy (Sadie and K.K. Heim).
Best friend Abby (Sarah Paulson) is dragged into the acrimonious legal battle and Carol pleads with Harge to let go of her and his bitterness.
"We go to court and it gets ugly," she tells him tenderly.
"We're not ugly people, Harge."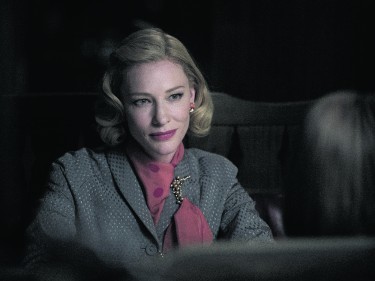 Carol is a triumph, anchored by Mara and Blanchett's flawless embodiment of their star-crossed protagonists.
Paulson delivers impassioned support and Chandler oozes weariness and despair as the spouse, who resorts to spite to cling on to his failed marriage.
Director Haynes is no stranger to the era, having considered matters of class and sexual orientation in suburban 1950s Connecticut in the Oscar-nominated drama Far From Heaven.
He is equally accomplished here, rendering the emotional devastation in meticulous, controlled brushstrokes. We're spellbound as his paint dries.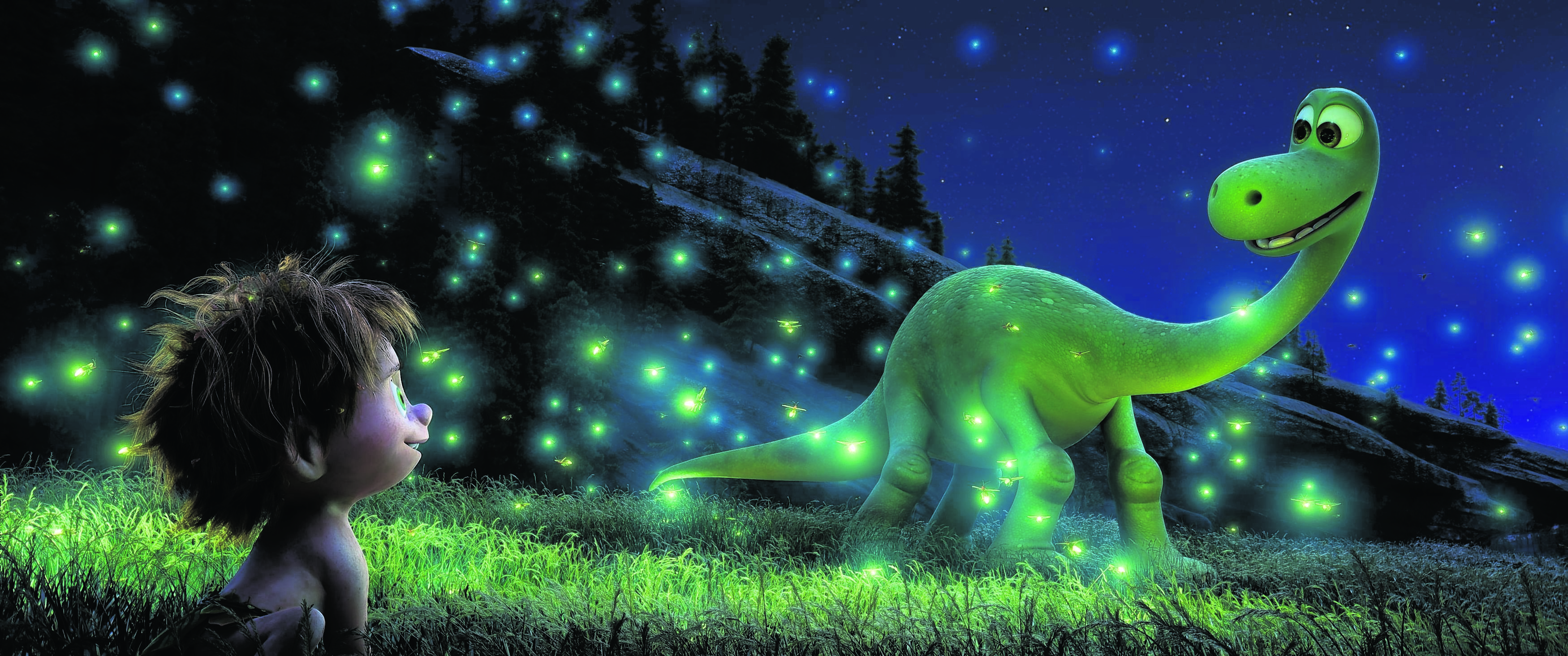 THE GOOD DINOSAUR (PG)
4 stars
Four instalments of monster mashing in Jurassic Park have taught us to be thankful that an asteroid supposedly impacted Earth around 66million years ago and wiped out the various prehistoric predators.
Pixar Animation Studios begs to differ.
Director Peter Sohn and his animation wizards conjure an alternate version of events: the ill-fated asteroid bypassed our third rock from the sun, allowing Tyrannosaurus Rex and other hulking beasts to thrive.
Consequently, the evolutionary food chain is reversed: dinosaurs learn to talk, build homes, raise dysfunctional families and expand their horizons while humans are an untamed species that roams the wilderness on all fours and communicates in crude howls and growls.
It's a cute concept that provides a solid foundation for Sohn's life-affirming tale of friendship and loyalty, inverting the touching central relationship of How To Train Your Dragon with similarly teary-eyed results.
At the heart of the film is a family of Apatosaurus comprising patriarch Henry (voiced by Jeffrey Wright), his wife, Ida (Frances McDormand), and three children, Buck (Marcus Scribner), Libby (Maleah Padilla) and Arlo (Raymond Ochoa).
They own a farm and work hard to harvest crops for the bitter winter months.
"You got to earn your mark by doing something big for something bigger than yourself," Henry teaches his offspring.
A tragic accident robs the siblings of their father and, soon after, Arlo tumbles into a raging river and is swept far away from his loved ones.
Lost in the wilderness, Arlo meets a feral cave boy called Spot (Jack Bright), who becomes the dinosaur's protector.
Beast and human embark on a magical adventure of self-discovery, bound for Arlo's home in the shadow of the Clawed-Tooth Mountains.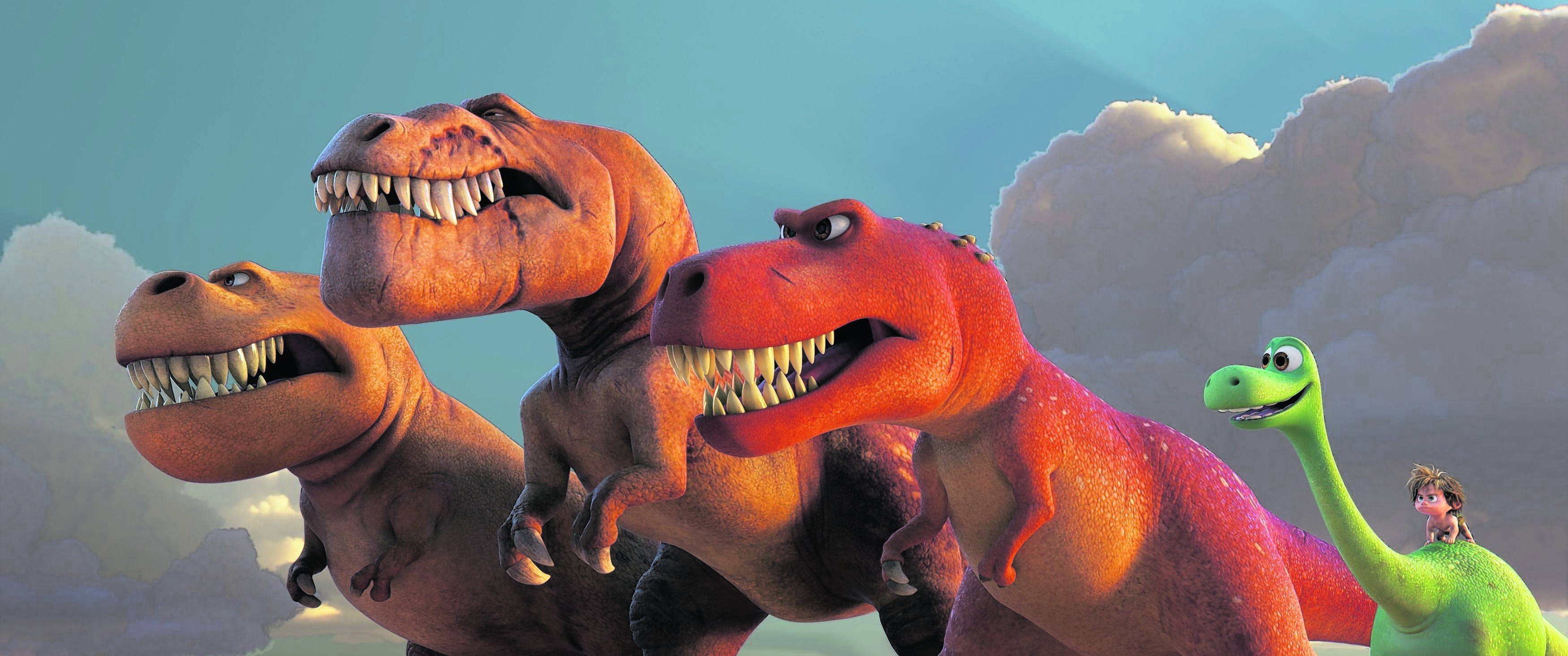 En route, they fall foul of villainous Velociraptors and a scavenging Pterodactylus called Thunderclap (Steve Zahn), and befriend a Tyrannosaurus herder called Butch (Sam Elliott) and his rootin' tootin' children, Ramsey (Anna Paquin) and Nash (A.J. Buckley).
After the heartbreak, hilarity and narrative sophistication of Inside Out, The Good Dinosaur is a step backwards for Pixar.
The plot is formulaic and predictable, and the finale is drizzled in emotional syrup.
While the script lacks daring and invention, the visuals are truly jaw-dropping and push the boundaries of photo-realistic animation on the big screen.
The gentle humour is concentrated in the opening hour, before the obligatory harsh life lessons, including one pivotal scene in which Arlo and Spot communicate their loss and loneliness through actions rather than words.
The payoff is an emotional gut punch that has become the studio's trademark.
The Good Dinosaur screens with the charming short Sanjay's Super Team, directed by Sanjay Patel, in which a young Indian boy daydreams about three Hindu gods becoming superheroes.