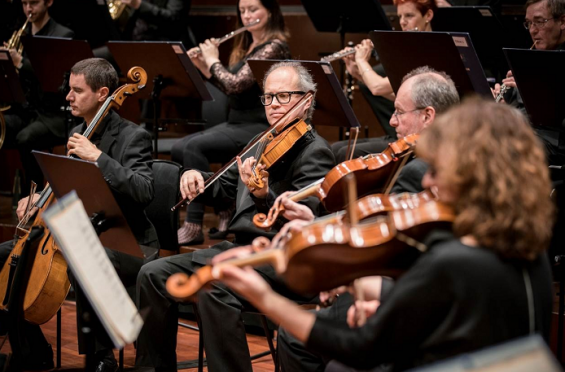 Something mystical can happen when fine musicians play superlative music live on stage.
And, at His Majesty's Theatre in Aberdeen on Saturday night, the Scottish Chamber Orchestra cast a musically enchanted spell over the audience which washed away workday worries and wintery woes.
Despite the shift from their usual Aberdeen base at the Music Hall to the more theatrical setting of HMT, it was a surprisingly intimate performance, perhaps enhanced by the fact there was no conductor standing between the audience and the performers.
Alexander Janiczek directed and was first violin in the first-half works by Mozart and Berg and soloist Llyr y Williams himself conducted, when appropriate, from his piano seat for Beethoven's Emperor, Piano Concerto No5 in E-Flat major Op73.
The concert began with two sensitive and lyrical works from the young genius that was Mozart – the opera overture La Clemens di Tito and his Violin Concerto No4 in D K218 in which Janiczek was the soloist, his violin singing sweetly to a rapt audience.
While these works are from widely separated periods of the composer's life, both the early concerto by the teenager and the overture by the mature composer in the last year of his life offered ample evidence of his great and wide-ranging gifts.
This was followed by Three Pieces from Lyric Suite, Berg's romantic and passionate tribute to his lover Hannah, based on his initials and hers.
But the triumph of the evening was Beethoven's Emperor – his fifth and last piano concerto.
As soloist, welsh pianist Williams was as one with the orchestra for this, one of the greatest piano concertos from one of the world's greatest composers.
Together, they captured the variety of moods within the piece, from the power and grandeur of the first movement, and the quieter beauty of the second, to the wit and virtuosity of the third.
And it was all the more poignant because the creator of this amazing piece of work – the greatest pianist of his time and one of the greatest composers of all time, by this point in his career profoundly deaf – was never able to play it or hear it in all its heart-breaking beauty.
It was a haunting and magnificent finale to a wonderful night of music, as demonstrated by an appreciative audience who called for more than one encore.
The concert is a majestic close to the acclaimed two-year journey Williams and Janiczek have been taking with the orchestra through the concertos of Mozart and Beethoven.
It was the SCO's first appearance at HMT following the closure of the Music Hall for its £7m refurbishment, but it was a setting which suited them very well and gave fans a different perspective on this much-loved orchestra.