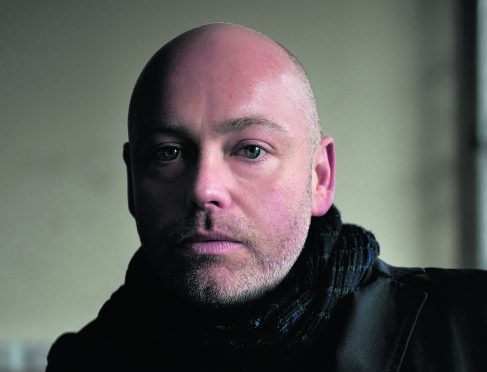 Under the auspices of Deveron Arts, Aidan O'Rourke travelled around north-east Scotland visiting abandoned places earlier this year and he has now written and recorded a suite of tunes inspired by these places. Cheryl Livingstone finds out more
FOR THOSE WHO DON'T KNOW YOU, CAN YOU TELL US A WEE
BIT ABOUT YOURSELF?
I'm a fiddle player and composer from Argyll. Currently, I tour with Lau and perform with my own trio and quartet.
YOU ARE A FORMER MEMBER OF BLAZIN' FIDDLES. WHAT DID YOU DO IN THE BAND AND DO YOU HAVE ANY SPECIAL MEMORIES FROM THAT TIME?
I was a fiddler in Blazin' Fiddles for 10 years. We did many gigs around Europe and the US. Highlights include playing the Albert Hall in London and the main stage of Cambridge Folk Festival on the same day. We also played a couple of private gigs in Billy Connolly's home when he lived in Candacraig House. They were pretty special. We also started our own fiddle school in Beauly, which is still going strong. One of my favourite gigs in Aberdeen was at the Music Hall with our With Strings Attached project, where the fiddles were joined by Justin Currie, Eddi Reader and Colin MacIntyre.
CAN YOU TELL US HOW THE IDEA FOR YOUR TRIP AROUND NORTH-EAST SCOTLAND VISITING ABANDONED PLACES COME ABOUT?
This was a residency and commission through Deveron Arts in Huntly. Deveron Arts are very connected to the outdoors and are keen for artists in residence to connect with the local area and the landscape. This was great for me, as I generally love being out and about on the hills or on my bike and love discovering a new area. I'm really lucky in being asked frequently over the past 15 years to be in residency in areas I'm unfamiliar with – places like Glentanar, Cromarty and this year in and around Huntly. On one of my visits, I just missed a talk by Andy Wightman in Glenbuchat Hall on land reform. I'd been familiar with Andy's work for some time and this talk had stirred a lot of emotions in people in and around Huntly and in particular the treatment of the residents in The Cabrach.
This got me thinking about how my music could link into these ideas, so we thought up a project called Imprint/Abandon which looks at how we humans, over almost 10,000 years, have lived on the land around Gordon, left our imprint and moved on, abandoning these settlements. The reasons for moving on are multitudinous: safety (from human-made and natural dangers), loss of industry, climate and, up to present day, clearances by acquisitive landowners.
WHAT PLACES DID YOU VISIT? WHAT DID YOU GET OUT OF IT?
I visited many abandoned settlements over the intermittent six-month residency and had some very knowledgeable guides. I loved the neolithic stone circle at Ardlair and the stones and stories from Rhynie. I climbed to the huge Iron Age fort on Tap o' Noth and visited St Walloch's Bath at Wallakirk. But the most inspiring, and the places that had the most impact, were the more recently abandoned settlements on the Cabrach. The numerous schools and farms which had been abandoned over the past 50 years. The sad stories about the Cabrach being the largest memorial to the great wars because of the very high percentage of men killed in action, leaving the Cabrach so short of manpower that many farms had to be abandoned. These settlements, with bedding still on beds and small electric fires in place, still feel alive, but are ghostly insights into recent history.
YOU'VE WRITTEN AND RECORDED SOME TUNES INSPIRED BY THOSE PLACES AND YOU ARE TAKING SOME PEOPLE BACK TO THOSE PLACES AS PART OF THE CD LAUNCH. WHY DID YOU WANT TO DO THAT?
As part of the launch, we'll visit some of the sites and, weather permitting, I'll play some of the music there. We're also planning a geocaching project, where we'll hide download codes in locations that are relevant to the tracks and release the co-ordinates online. If you find the location and the codes, you get a free download of the track.
You can hear the tunes live on location as part of the event on December 5, when we'll walk around some of the sites and talk about the music and the history.
Aidan's Imprint/Abandon: Musical Tour takes place on December 5. You can find more details of the event at www.deveron-arts.com