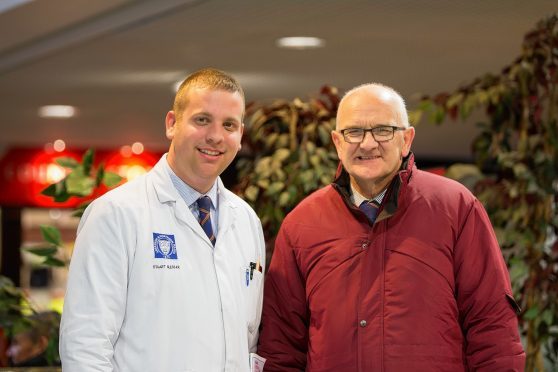 North-east farmers' co-operative ANM Group has raised more than £30,000 for charity as part of efforts to celebrate the 25th anniversary of its base in the north.
The group ran a series of fundraising events to mark the 25th anniversary of the Caithness Livestock Centre in Quoybrae.
This culminated in a special anniversary show and sale, where almost £10,000 was raised by auctioning off four lots of store cattle donated by families in the local area. In total £32,000 was raised and split equally between Diabetes UK and Cancer Research UK.
Fundraising events included a charity dance at the centre and a 400-mile static cycle at ANM Group's base at Thainstone, Inverurie.
Centre manager John Bremner said: "I'm absolutely overwhelmed by the generosity and support of the local community in helping us celebrate Quoybrae turning 25 years young.
"On behalf of Aberdeen and Northern Marts, I'd like to thank everyone who generously donated, attended our fantastic anniversary dance or supported us through auction and raffle prize donations."
The top price of the anniversary sale was £3,400 for a Simmental cross heifer with Limousin cross heifer calf at foot. Donated by John Bremner and family, the outfit sold to A. Matheson, Auckengill, Wick.
The winner of the pre-sale show was a 20-month-old Charolais cross heifer, scaling 606kg, donated by Andrew Campbell, Bullenie, Halkirk. She sold to the judge – David Brown of Burnside of Dipple, Fochabers – for £2,000.
The reserve champion title went to a 17-month-old British Blue cross heifer, weighing 581kg, from W. and I. Gunn, Murza, Bower. She also sold to the judge for £1,400.
The anniversary sale also coincided with Mr Bremner officially stepping down for his role as centre manager after more than 47 years of service at ANM Group. He is replaced by Stuart Slesser.
ANM Group executive director,John Gregor said: "This was a key milestone for Quoybrae and one that deserved special recognition and celebration. We are delighted to have raised such a tremendous amount of money for Cancer Research UK and Diabetes UK – two very deserving charities selected by John Bremner.
"John retires this week after more than 47 years with Aberdeen and Northern Marts, which is a truly incredible achievement and one of which he should be very proud. He has played an integral role in the development of Caithness Livestock Centre over the years and I'd like to thank him for his hard work and dedication."