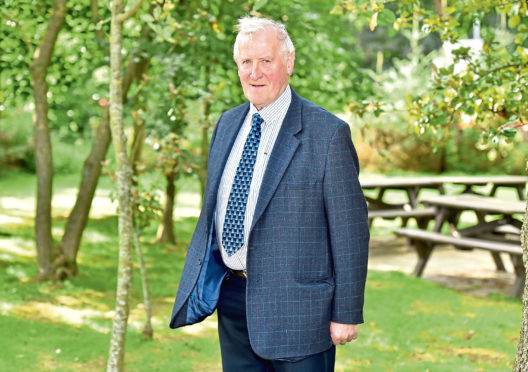 The founder and managing director of a well-known agricultural supplies business has won a prestigious industry award.
George Mearns, of Turriff Agri Parts Limited, is one of seven members of the agricultural community to be honoured in this year's Royal Northern Agricultural Society (RNAS) awards.
The society presents a number of awards every year to recognise members of the farming community in the region.
Mr Mearns is the winner of the Aberdeen & Northern Marts sponsored local award, which recognises someone for their services to local communities, specialist farming organisations or groups.
Described in citations for the award as someone who "goes above and beyond", Mr Mearns started out on a small tenant farm in Banff with his father before taking on contracting work and eventually buying the predecessor to Turriff Agri Parts Limited – the Turriff branch of Alan Esslemont Limited – in 1979.
Together with the help of his wife Isobel, and in the early days the late Bob McKenzie who was a partner in the business until he retired, Mr Mearns grew the firm which now has 14 employees and another site at the Thainstone Centre, near Inverurie.
"We originally supplied purely agricultural spares and supplies and within a couple of months we started selling Karcher powerwasher equipment," said Mr Mearns.
"Back then 80% of sales were from agriculture and 20% from washers. Now it's 20% agriculture, 40% Karcher powerwashers and 40% project management work for private water supplies."
He said the agricultural market was very competitive, however the business was committed to supporting the sector through donations and involvement with RNAS, rural education charity the Royal Northern Countryside Initiative, and sponsorship of shows and sales.
This commitment to helping the sector is mentioned in all citations for Mr Mearns getting the RNAS award.
One refers to Mr Mearns' "40 years of outstanding service to the agricultural industry" and says: "George has a great inspiration for the younger generation within the agricultural community and, with his encouragement and sponsorship, can see potential followers in the industry".
Another describes Mr Mearns as a "stalwart o the agricultural industry" and someone who has given his time freely to help rural businesses.
All citations pay tribute to Mr Mearns' dedication to his job and how he works 60-70 hours a week and has no problem going out to help farmers secure water supplies for their livestock in the middle of the night.
On winning the award, Mr Mearns said: "I'm very humbled. I'm not a person to look for the limelight.
"It's a great honour and it was quite a shock, but it's all a joint effort. It's nae an award for George Mearns; it's about Turriff Agri Parts in general and its staff."
All eyes are now on plans for a special 40th anniversary open day at the company's flagship Turriff branch next Saturday.
Mr Mearns will receive his award at a celebration lunch on Friday November 1 at the Jury's Inn at Aberdeen Airport.