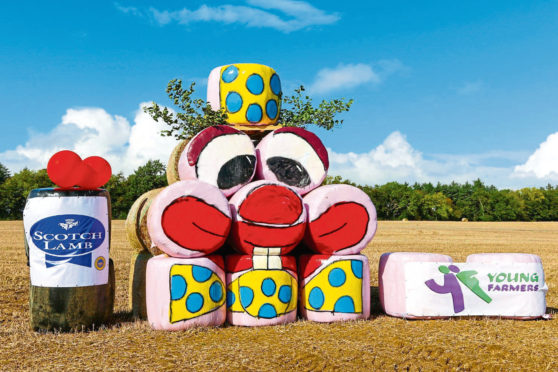 Artistic displays of bales will soon be on show across the Scottish countryside as part of the latest Young Farmers bale art competition.
The Scottish Association of Young Farmers' Clubs (SAYFC) has tasked its membership with creating displays which highlight the importance of maintaining good mental health.
The theme of this year's contest is Keep Talking – the slogan for a summer campaign run by rural charity RSABI.
It encouraged farmers and others involved in agriculture to pick up the phone or chat online to each other.
"With our club's bale structures shouting the same message nationally, we're in the hope that they're noticed by those who may simply be in need of a talk about issues affecting them personally," said SAYFC.
"It's important we highlight RSABI's helping hand to provide fully confidential emotional support given by mental health first-aid trained confidantes who fully understand the sector and are outwith a person's family or neighbourhood."
Clubs have until 12pm on Sunday to complete their art displays and submit a picture to SAYFC for judging.
A shortlist of six entries will be announced on Monday, and the winning display will be announced on Friday October 9.
RSABI chief executive, Nina Clancy, welcomed the competition and said: "Having Young Farmers Clubs on board will mean the message will get out to so many more people.
"We ran the #KeepTalking campaign earlier this year and the message remains a vital one.
"Staying connected is a key way we can look after our mental wellbeing so taking time to catch up with friends, family and neighbours is really important."
She encouraged anybody experiencing poor mental wellbeing to seek support by contacting the charity's helpline on 0300 111 4166, which is open every day from 7am to 11pm.
She added: "Our helpline staff and volunteers are mental health first-aid trained and calls are answered in confidence."