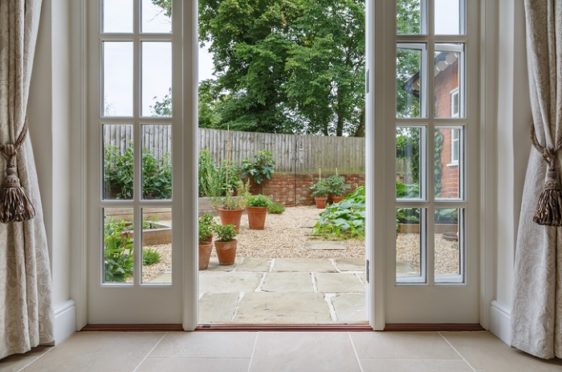 If you've been thinking about refreshing your garden or home and you're looking for the motivation to get started, we've got just what you need.
To help you on your way, we've selected some of the best local experts offering a variety of services and goods.
They can help you with everything from re-tiling your bathrooms to transforming your garden with artificial grass or even moving to an exciting new property development.
Read on to find out more about the help on offer…
Make your garden the centre of attention with Thistle Windows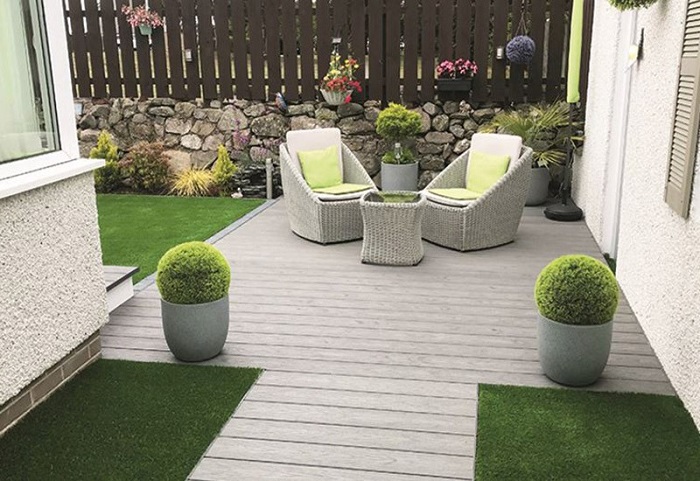 Make your garden the centre of attention with low maintenance uPVC decking and fencing from Thistle Windows. Featuring woodgrain surfaces that look and feel like real wood, uPVC decking and fencing is durable, strong and unlike traditional timber alternatives. It doesn't rot and doesn't require regular maintenance – simply clean occasionally with warm soapy water.
uPVC decking and fencing is designed to be eco-friendly and is made from a high proportion of recycled material. As a low-maintenance product that doesn't require painting or varnishing, it also limits the opportunity for toxic chemicals to leach into the environment.
You can make your garden even more hassle-free by choosing artificial grass. It's extremely low-maintenance, meaning no watering, weeds, or mowing and, most importantly, no hassle! It's also very easy to clean and with good drainage features you can say goodbye to muddy patches.
Artificial grass is also an excellent choice for creating a child-friendly environment in your garden for fun and activities. You can also choose to install an impact-softening underlay for extra peace of mind when children are at play.
Located at Thistle House, Woodside Road, Bridge of Don, Aberdeen, the Thistle Windows showroom is open seven days a week and has a wide variety of decking, fencing and artificial grass on display.
*For more information visit the website by clicking here, or call 01224 706 555.
Refresh and modernise your house with Aberdeen Tile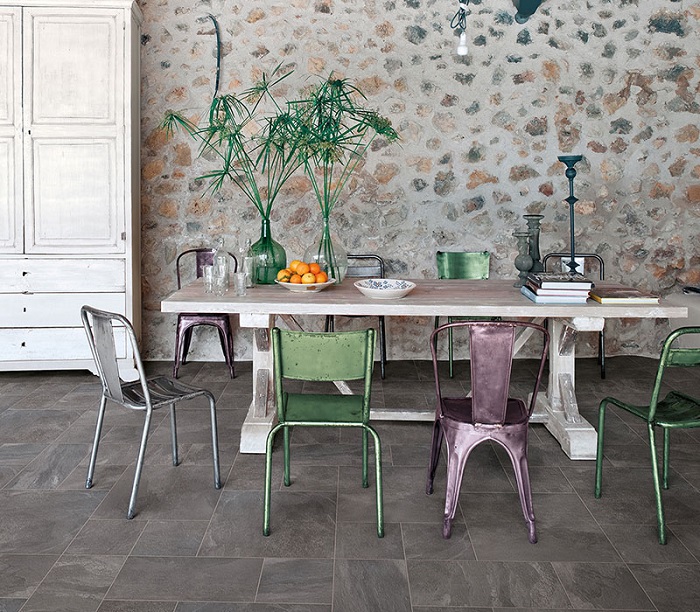 Aberdeen Tile has always offered a high-quality tile supply service that is widely available throughout the North East.
They take pride in ensuring their work transforms rooms, and their team of expert tilers are always ready to offer any style needed to complete your perfect home.
Styles offered by Aberdeen Tile are extensive, and include ceramic, porcelain and natural stone floor and wall tiles that will give your rooms a fresh, modern look.
As soon as you pick your design, Aberdeen Tile will put the legwork in to make sure that the process is as stress free as possible.
Once installed, the tiles are guaranteed to be long lasting and resist the passage of time. They're also exceptionally easy to maintain and clean, and are great for allergy sufferers.
Now Aberdeen Tile has also added the DE silver modular tile to their range. This smart tile comes in muted tones of silvery grey and is perfect for outside patios surrounded by greenery, or any indoor rooms looking for a clean design.
No matter what, Aberdeen Tile has the range to see out your vision. It's located at 56 Virginia Street, Aberdeen.
Email info@aberdeentile.co.uk, call 01224 582332 or visit the website here for more information and a free no-obligation estimate.
For all your bathroom needs, call in the Home Expert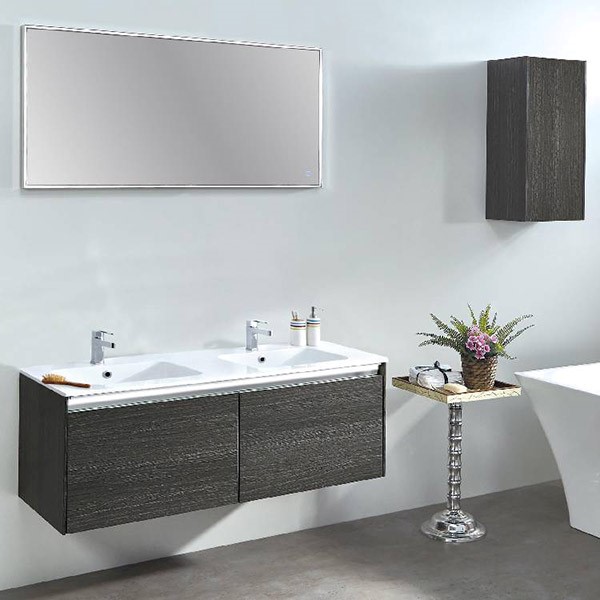 "Did you know that a renovated bathroom adds value to your home, updates its style, and makes life easier when adapted to your personal needs?", says Home Expert.
Home Expert can transform every room to look and feel sophisticated and unique. They always try their hardest to impress you with an ideal bathroom to meet your needs and style. They have a vast range of suppliers to let you find the right tap, basins, showers – you name it and they'll get it for you! Plus, many of their products come with a lifetime guarantee.
Home Expert's Showroom is located at 4 Hill Street and is open six days a week so don't hesitate to pop in or arrange an appointment to discuss your project. Once you're happy with the 3D design (it's free and non-obligatory), you can simply relax and the team members will oversee everything from the initial design right through to installation, keeping you informed throughout. All of the performed works come with an installation warranty keeping your peace of mind.
*For more information, visit the Home Expert website by clicking here.
Make a move to the new Dan Mor Developments at Westhill Heights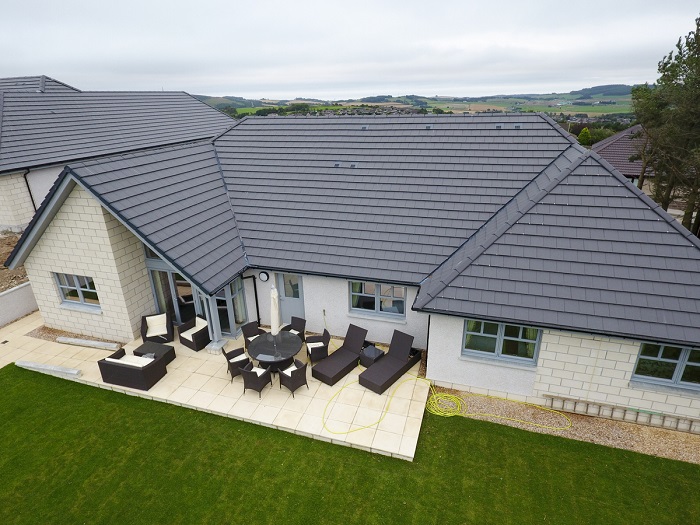 Few homes capture that holiday feeling better than those of Westhill Heights; sitting atop the peaceful Aberdeenshire town, the development offers spacious housing with idyllic surroundings. And its properties are in high demand, with just a few bungalows left.
New owners on the Loch View site will experience the dynamic blend of rural tranquillity and modern accessibility offered by these gorgeous and intimate homes.
Built exclusively by Dan Mor Developments, every detail has been thought of. Each house has five double bedrooms with ensuite bathrooms, and that barely scratches the surface of what's on offer.
Greeting you as you enter is a reception room, which opens up to a bright lounge area. The space on offer is enough to make any homeowner feel like they've found somewhere truly special.
Taking a look at the detail-orientated kitchens and bathrooms will only make you fall more in love with these homes as each shines with a quality finish. The vaulted-ceiling kitchen-diner sports all the best mod cons for a hassle-free get together, showcasing the versatility on offer.
The kitchens and bathrooms are all fitted with the best German finishes, offering detail and quality as well as ample storage.
Leading out onto the patio, you'll find a beautiful level garden that offers more private space for relaxation and contemplation. There's also an integrated double garage for maximum convenience.
And, most importantly, the properties aim to make their owners more comfortable. Their location adds to this, offering gorgeous views of the surrounding countryside and short, hassle-free drives to the city.
Along the way, you'll find an abundance of cafes, restaurants and shops and a selection of public and private schools. There's also a golf course around the back where tenants can relax and spend even more downtime.
Dan Mor is now offering more incentives to live the dream, as remaining houses are now being considered on a part-exchange basis (subject to T&Cs).
To get a feel for what living in the Heights would be like, book your visit on info@danmordevelopments.com or visit the website here.
Take a leaf from Kellockbank's book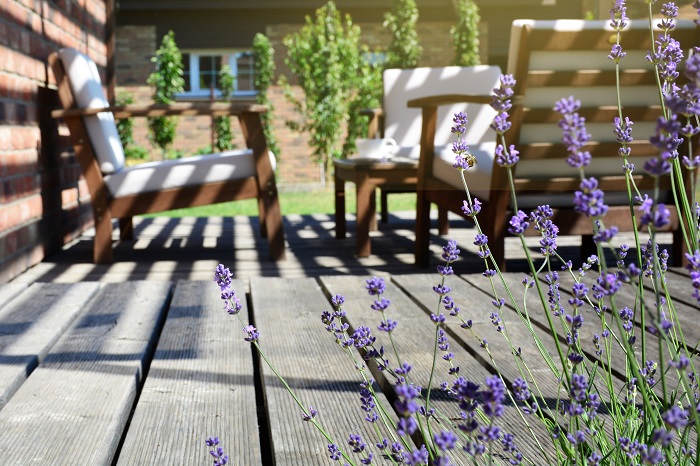 As the seasons change and summer gives way to autumn, local gardeners might be worrying about what lies ahead.
The colder days, longer nights and vast amounts of leaves scattering the ground don't often make for good omens. But fear not, autumn doesn't have to mean doom and gloom; Kellockbank is the place to come to in Aberdeenshire for stylish indoor and outdoor living inspiration.
Pop in store and discover Kellockbank's range of statement furniture and stylish accessories and gifts, enjoy morning or afternoon tea, or linger over lunch in the coffee shop.
Create a home and garden for family and friends to enjoy with you – discover Kellockbank.
Find out more about Kellockbank Garden Centre online here.